The Multi-tool is a hand-held tool and weapon in No Man's Sky. It can be used to scan, gather resources, and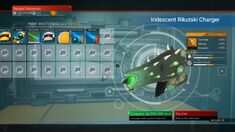 attack foes. The multi-tool can be upgraded with blueprints found in many buildings to a maximum of 24 slots. There are multiple ways to upgrade the Multi-Tool including:
Talk to NPC merchants and traders. One may have an upgrade or component.
Faction merchants may have blueprints available at a reduced price depending on the player's reputation with that faction. These require Nanite Clusters for trade. 
Check inside alien buildings for blueprints
Watch for Multi-Tools on the walls in stations. Players can exchange to an upgrade the same way they would for a better ship. 
There are three different modes available on the Multi-Tool. Laser, Projectile, and Terrain Modification. The indication on the upper right corner of the players HUD indicates which mode the multi-tool is currently in. 
Classes and Types
The Multi-Tool is divided into 4 types. Just like the Starships the classes are C, B, A, and S - with S being the most powerful and C the lowest.
Three are also four types of Multi-Tool. These are:
Pistol - bonus to mining
Rifle - bonus to damage
Experimental - bonus to scanning
Alien - may be a balance of multiple bonuses
The tools have different names and identifying numbers. In Sandbox mode, players can rename their Multi-tool to whatever they choose. Doing so will not change the stats in any way.
Components
The beginner's multi-tool is the  Experiment C6/4 which has five inventory slots available. It come equipped with three components:
Mining Beam

Installs focusing optics within the Multi-Tool, allowing it to emit a high-energy beam. The beam is calibrated to excite molecules within common organic or geological objects, allowing it to operate as a highly effective mining device.
Scanner

The Scanner releases a high-energy pulse that reveals any critical survival resources in the immediate area. Data is transmitted via the Exosuit directly into the user's visual nervous system.
Analysis Visor

Augments standard Scanner capabilities by projecting detailed environmental data directly over the user's vison. Allows the identification of distant points of interest. The Visor will generate valuable data when used to study flora, fauna and minerals.
There are additional components and upgrades that can be built and placed into the multi-tool. These include:
Mining
Advanced Mining Laser

Replaces standard Mining Beam optics with high-grade Living Glass, allowing the beam to be effective against large and/or rare resource deposits. The lens adapts automatically to minute fluctuations in the beam waveform, minimizing scatter and increasing device mining potential.
Weapons
Weapon Upgrade Components
Secondary Weapons
Scanner
Waveform Recyler

A powerful lateral processor inserted into the Multi-Tool Scanning System allows the device to recharge at a significantly improved rate. Increases potential scan frequency.
Controls
For PS4
R2 - Fire weapon
R1 - Melee attack
Triangle - switch attack mode from laser to bolt
L1 - throw grenade
For PC
LMB - Fire weapon
Q - Melee attack
X - switch attack mode from laser to bolt
MMB - throw grenade
For Xbox One
Y - Switch attack mode from laser to bolt
Increasing the capacity
There are multiple multi-tools that can be obtained from different species, the Gek, Korvax, Vy'keen and the Sentinel. The multi-tools will come with an array of functions and a varying amount of slots.
They can be found in large red containers at outposts, in some shipwreck terminals, from monoliths and aliens the character has helped.
In an attempt to guage the prices of different multi-tools below is a table with the Different multi-tools with their ranks, prices, and how many slots they have.
| Type | Rank | Number of Slots | Value | Price found at | Price per Slot | Found At |
| --- | --- | --- | --- | --- | --- | --- |
| | C | 18 | 1,600,000 | 235,000 | 93,000/13,000 | Anomaly |
| Pistol | B | 9 | 420,000 | 0 | 46,000 | Monolith |
If you find another multi tool that's stats to do not match those found on the list please either add it to the list yourself or send a screen shot of the compare screen to Zekybomb who will gladly do it for you.
Laser
The laser, also called a Mining Beam, is used for mining resources on planets and, with upgrades, can be used as a weapon. The device is powered by isotope elements such as Carbon, Plutonium, and Thamium9. Mining Beam technologies allow faster mining, reduced cool-down times, and increased yield.
Laser upgrades
Mining Beam technologies allow faster mining, reduced cool-down times, and increased yield.
Name
Description
Tier
Recipe
Beam Focus
Faster Mining Beam processes on resource-rich materials.
Sigma
Tau
Theta
Beam Intensifier
Mining Beam laser is strengthened to speed up terrain destruction.
Sigma
Tau
Theta
Beam Coolant System
Mining Beam is modified to extend the time between cool-down periods.
Sigma
Tau
Theta
Combat Amplifier
Offensive capabilities of the Mining Beam are upgraded.
Sigma
Tau
Theta
Omega
Railshot
Boltcaster[ln 1] delivers instantaneous damage on targets.
—
Laser notes
↑

The Railshot description text incorrectly displays "Boltcaster" as the affected weapon type. It should read "Mining Beam."
Projectile
The Boltcaster is a combat-focused projectile weapon. The device is powered by isotope elements such as Carbon. Upgrades to the Boltcaster increase damage, ammo clip capacity, improve rate-of-fire, reduce reload times, reduce recoil and give it other abilities.
Projectile upgrades
Name
Description
Tier
Recipe
Boltcaster
Combat-focused weapon. User is advised that Isotope elements, such as Carbon, are required to recharge device.
—
Impact Damage
Boltcaster shots deliver added physical damage upon impact.
Boltcaster SM
Sigma
Tau
Theta
Omega
Rapidfire
Boltcaster rate-of-fire system upgrade.
Sigma
Tau
Theta
Boltcaster Clip
Boltcaster's ammo clip capacity is increased.
Sigma
Tau
Theta
Reload Accelerant
Boltcaster ammunition reload times are decreased.
Sigma
Tau
Theta
Recoil Stabiliser
Boltcaster experiences reduced kick-back upon firing.
Sigma
Tau
Theta
Ricochet
Boltcaster shots are granted deflective properties.
Sigma

100 Platinum
200 Iron
200 Heridium

Tau
Theta
Shortburst Adaptor
Boltcaster releases short, rapid sequences of fire.
—
Wideshot Adaptor
Boltcaster shots are granted a wide cone of destruction.
—
Homingbolt Adaptor
Boltcaster rounds trace and follow target movement.
—
Grenade
The Plasma Launcher is a grenade launcher that can be used for land excavation. The device is powered by isotope elements such as Carbon.
Grenade upgrades
Name
Description
Tier
Recipe
Plasma Launcher
Land disruption technology and excavation tool. Launched plasma shells explode on impact.
—
Grenade Intensity
Plasma Launcher grenades cause heightened damage within their localized zone of impact.
Sigma
Tau
Theta
Damage Radius
Plasma Launcher grenades have widened impact craters.
—
Tau
Grenade Propulsion
Plasma Launcher grenades travel at high velocity.
—
Tau
Rebound Grenades
Plasma Launcher shells rebound from planetary structures before ignition.
—
Tau
Homing Grenade
Plasma Launcher grenades trace and target nearby lifeforms, regardless of species or sentience.
—
Scan
The scan feature of the multi-tool aids in exploring. There are two scanning devices for the multi-tool, the Scanner, which is a topographical surveyor that highlights local flora and resources, and the Analysis Visor, or binoculars, which allows the character to zoom in on distant objects, tag and identify planetary creatures and points of interest.
Scan upgrades
Name
Description
Tier
Recipe
Analysis Visor
Optical enhancement and creature discovery system.

This is a base upgrade for the Multi-Tool.

—
Scanner
Planetary exploration device that locates and highlights nearby points of interest.
—
Range Boost
Scanner's detection range is increased.
Sigma
Tau
Gallery
Multi-tool
technology
Mining Beam · Scanner · Analysis Visor · Boltcaster · Plasma Launcher

Laser: Beam Focus · Beam Coolant System · Beam Intensifier · Combat Amplifier · Railshot
Projectile: Impact Damage · Rapidfire · Boltcaster Clip · Reload Accelerant: · Recoil Stabiliser · Ricochet · Shortburst Adaptor · Wideshot Adaptor · Homingbolt Adaptor
Grenade: Grenade Intensity · Damage Radius · Grenade Propulsion · Rebound Grenades · Homing Grenade
Scan: RangeBoost
Community content is available under
CC-BY-SA
unless otherwise noted.