Adurma
Galaxy
Euclid
Region
Fiquencha
Color
Yellow
Spectral class
F5p
Distance to centre
706,863 light‑years
Galactic coordinates
0EA9:0079:0633:003D
System ID
61
Planet(s)
5
Moon(s)
0
Waterworld
Yes
Faction
Vy'Keen
Economy
Manufacturing
E-Sell
69.7
E-Buy
-27.3
Wealth
Balanced
Conflict level
Dangerous
Claimed by
CELAB Galactic Industries
Discovered by
celab99
Discovery platform
PC
Game Mode
Normal
Updated
Frontiers
Adurma is a star system.
Summary
[
]
Adurma is a star system in the No Man's Sky universe.
Adurma is a yellow star system in the No Man's Sky universe. It contains 5 planets. The Vy'keen faction inhabits this system. The system economy is primarily manufacturing. The economic conditions are balanced.
The star system is estimated to be 4.1 billion years old.
It is notable as the capital star system CELAB Galactic Industries and the home base of PC AGT Traveller Celab99. The primary base of explorer Celab99 is located on the planet Adurma Prime Water. A secondary base is located on Adurma II.
Alias names
[
]
Discovered
[
]
By PC explorer celab99 on (29-Oct-2018). There is a claim documented by CELAB Galactic Industries.
Planets & Moons
[
]
The following planets are present in the system:
Starships
[
]
Multi-Tools
[
]
Location Information
[
]
It is located in the Fiquencha region. It is estimated to be 706,863 light years from the galactic centre of the Euclid galaxy.
Coordinates
[
]
Portal Glyphs
[
]
003DFAE346AA
[

]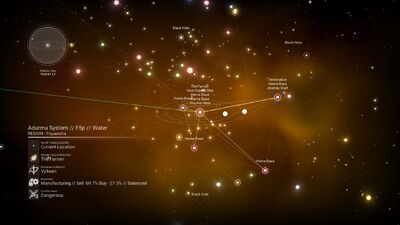 Interstellar Distances
[
]
Space station
[
]
The following Trade Commodities are found at the Galactic Trade Terminal:
A Class A-16 slot Dreams of Supplication Rifle Multi-tool was found at the Space Station.
Additional Info
[
]
Documented based on site surveys during : 19-Jul-2020.
Survey research contributed by the CELAB Galactic Industries research team.
Surveyor on record: celab99
The star system was discovered approximately (29-Oct-2018).
Documented Base Count: 5
A space derelict Crashed Freighter was observed floating in space en route from Adurma II to Adurma Prime Water. (see gallery)
Gallery
[
]
Frontiers Era Survey
[
]
Origins Era Survey
[
]
Desolation Era Survey
[
]
CELAB Galactic Industries
[
]

Bases * Explorations * Starfleet * Large Fauna * Fauna * Multi-tools * Starships
Discord Instagram Twitter Facebook YouTube Reddit:celabgalactic
Portal Repository