AquaSphere
Used in crafting the Homingbolt Adaptor
Category
Trade Commodity
Total Value
23,375.0
Updated
Atlas Rises
AquaSphere is a trade commodity.
Summary
[
]
AquaSphere is a rare trade commodity item.
Game description
[
]
Extremely valuable curiosity can sometimes be found in the seas and lakes of some planetary systems.
Their initial origin is unknown.
Source
[
]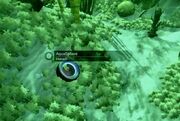 AquaSpheres can be found among some underwater plants, or hidden in the centre of some underwater boulders. When they are present and the scanner is used, they are marked with a purple icon like other exotic resources.
Use
[
]
AquaSpheres are an obsolete product and no longer have a purpose in the game.
Additional information
[
]
Release history
[
]
Release - Added as trade commodity.
NEXT - Removed from the game and with the Abyss update a container called Submerged Relic introduced using the same skin.
Gallery
[
]