The subject of this article is from the ExoMech update.

The information from this article is up-to-date as of 10 June, 2020.
The subject of this article is from the ExoMech update.
The information from this article is is up-to-date as of 10 June, 2020.
| | |
| --- | --- |
| | This page fills the role of Embassy for the United Federation of Travelers. The information found here represents a user-created alliance of Civilized space zones that is a creative addition to the game. |
This page fills the role of Embassy for the United Federation of Travelers.
The information found here represents a user-created alliance of Civilized space zones that is a creative addition to the game.
There are multiple game-release versions of the United Federation of Travelers embassy page.
---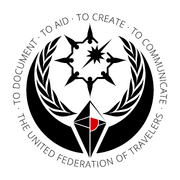 The United Federation of Travelers is an alliance of civilized space zones.
Summary
The United Federation of Travelers, more often just called the Federation, is an alliance of civilized space zones. It was formed on April 15, 2017, and went public on April 25, 2017. The Federation's purpose is to unite civilizations behind universally beneficial goals without hindering any sovereign civilization's customs or practices, and to assist in the founding of new civilizations. While fan-fiction/roleplay elements can be involved, the Federation places no official restrictions on, and makes no specific endorsements of, any fan-fiction. Federation Civilizations are left to manage their own fan-fiction/roleplaying/lore.
The Federation's main website is the Federation Subreddit.
General Moderators: 7101334 / zazariins / Acolatio.
Universally Beneficial Goals
These are the Federation's primary goals. All Federation civilizations are expected to follow them and encourage their citizens to follow them.
To Document
To document all No Man's Sky-related information on the NMS Gamepedia wiki. Helping individuals document wiki content.
Officers: intothedoor / g5457s.
To Aid
To aid groups or individuals with the establishments of new civilizations. Consolidating and distributing Federation wealth to projects, causes, or individuals approved by Federation vote.
Officers: EdVintage / blek123.
To Create
Establishes a single Federation Colony where all ambassadors are encouraged to build bases to showcase their civilization and its style.
Officers: Jikomiko1 / Astromons
To Communicate
To communicate with known civilized space zones and provide a place for ambassadors and representatives to communicate with each other.
Officers: beacher72 / Axiom1380 / NITRO-ASYLUM / Juseppe_BSO
Map
Image Map of the Federation as of May 28, 2020.
Clicking on a civilization in the picture causes the browser to load the appropriate article / Mouseover = Coordinates.
For the Visions map, visit UFT Visions.

Federation Civilizations
Euclid
Emblem
Civilization
 Quadrant 
Capital System
Ambassadors
Coordinates
Main Website
Platform
Civilization Categories

Alliance of Galactic Travellers
Gamma

AGT Nexus

zazariins
Bufalo04
Patholas8
043D:0072:0D44:001C
Alliance of Galactic Travellers
PS4
PC
Xbox
Hub
Construction
Documentation
Profit

Antaurean Imperium
Gamma
Antaurus Xi Renovas
antdgaf421
0431:0077:0D4F:018F
N/A
PS4
Rural
Militant
Profit
Documentation

Arcadian Republic
Gamma
Zevangi-Omemo
Axiom1380
0204:0078:0B3E:00B1
N/A
PS4
Rural
Casual
Documentation

Artifices Caeli
Beta
Aiqing
WinderTP
0EBD:0080:065A:008A
No Mans Sky Mods
PC
Standard
Modification
Creation

Black Star Order
Delta
Rerkungan
Juseppe_BSO
0B15:007C:0AD7:002D
NMS BlackStarOrder
PS4
PC
Xbox
Standard
Fanfiction
Theocracy

CELAB Galactic Industries
Beta
Adurma
celabgalactic
0EA9:0079:0633:003D
N/A
PC
Solo
Documentation
Exploration

Domus Stellaris Confederation
Delta
Gujole XIII
RandomStrangr73
0EE9:0084:087C:0048
N/A
Xbox
Solo
Construction
Militant

Dopelord Confederacy
Delta
Avalon!
Ubiquibot
0804:007B:0804:008B
N/A
PS4
Standard
Profit
Militant

Empire of Achenar
Gamma
Erabrev
AveryDion
Ultra456
01A0:007D:0939:0183
Empire of Achenar
PC
Standard
Documentation
Militant

Empire of Bizent
Alpha
Bizent-Angot XVI
Woag_8
05FA:0082:014C:005
N/A
PS4
Rural
Construction
Fanfiction

Empire of Jatriwil
Gamma

Jatriwil

WAAM86
0426:0078:0D59:01D4
N/A
PS4
Solo
Casual
Fanfiction
Militant

Empire of Phantomium Marxium
Beta
Naossas
Jikomiko1
blek123
0801:0086:07E2:007A
EPM Reddit
EPM Discord
Xbox
Hub
Fanfiction
Documentation
Military

Enigma Alliance
Beta
Negasonic Override System
Override5
0CB4:007B:032B:0010
N/A
PC
Rural
Exploration
Profit
Integration

Euclidean Scholar's Society
Beta
Ubaksaro IV
edgarsoft
0CE8:007A:031D:002F
N/A
PC
Rural
Documentation
Exploration

Galactic Hub Project
Gamma
HUB10-6A Quetzalcoatl's Sun
7101334
AndyKrycek6
MrJordanMurphy
042F:0079:0D55:006A
NMS Galactic Hub
PS4
PC
Xbox
Hub
Construction
Documentation
Profit

Galactic Trading Company
Alpha
(GTC KMin1) Rebinkan
fd_nms
0441:0082:0290:021E
N/A
PS4
Solo
Company
Documentation
Profit

Geknip Gang Hub
Beta
Savjazz21
mistermichaelk
0E40:0083:04E8:001C
Geknip Gang Community Channel
Discord Group
PS4
PC
Xbox
Standard
Casual
Construction

Grand Conjunction
Beta
Mestr-Gebo at'Folr
Ertosi
0CE8:007B:031D:0038
N/A
PC
Rural
Non-localized
Exploration

Korvax Ascendancy
Alpha
KAscendancy Sol
InsertFurmanism
063D:0081:0133:0037
Korvax Ascendancy
PC
Rural
Militant

The Qitanian Empire
Alpha
Qitand-Tus
EdVintage
TheRealJasonium
St00se
07FA:0081:07F9:0036
NMS QitanianEmpire
PS4
PC
Xbox
Hub
Documentation
Fanfiction

RAIN
Beta
Larden
NITRO-ASYLUM
0800:007D:07F7:00D8
N/A
PS4
Rural
Company
Creation

Stream of P0ne
N/A
N/A
p0nestream
N/A
N/A
PC
Solo
Casual
Documentation
Non-localized

Three Sons Syndicate
Beta
The Caribbean
Forsaken_Leadership
0A3E:0088:01A6:0034
N/A
Xbox
Rural
Profit
Casual
Militant

The Volition Project
Gamma
Antioch Prime
Gaspurr
043B:0079:0D46:012B
The Volition Project
PC
Rural
Documentation
Exploration
Calypso
Budullangr
Eissentam
Rerasmutul
Meximicka
Departments
Departments must be approved by a general vote, and can be removed by a vote or by the manager of the Department at their discretion. Managers of external Departments do not need to be ambassadors.

Galactic Hub Star League
The Galactic Hub Star League is the competitive simulation sports organization sponsored by the Galactic Hub.
Department manager: 7101334

Vexillology Department
The Federation Vexillology Department is created for the purpose of recording which color and pattern combinations of in-game flags and banners correspond with certain civilizations.
Department manager: Juseppe_BSO / Acolatio

Event Department
The Unification Day is a player-created gathering of civilizations scheduled for December. UD 2017 / UD 2018 / UD 2019
The Hall of Fame election takes place once a year and honors users who have excelled in civilized space or NMS. Hall of Fame 2018 / Hall of Fame 2019 / Hall of Fame 2020
Department manager: WAAM86

Census Department
Currently being established.
Department manager: beacher72 / intothedoor

Security Department
Currently being established.
Department manager: MrJordanMurphy
Membership
Civilizations must meet certain criteria before qualifying for Federation membership, but may participate in most aspects of the Federation except voting even before gaming membership.

Criteria
Any civilizations seeking Federation membership status must meet the following criteria:
These pages are required:
1 main embassy page (Info box / capital system and planet / short description / coordinates / type / size / platform / list of documented star systems / emblem)
1 capital system + 4 star systems (Info box / number and names of planets and moons)
1 page for the region (Info box / list of documented star systems)
1 capital planet (Info box)
1 census page or for solo or small civilizations, a census section on the main embassy page.
Assignment of flag and banner in the Federation Vexillology Department.
Process
If your civilization meets those criteria, you can then follow the steps below to apply for Federation membership:
Your civilization must agree to encourage the use of the NMS Gamepedia Wiki over other documentation tools, and ideally contribute to the Wiki in other ways as well.
Your civilization must provide coordinates for a capital system, unless you are a non-localized community. Capitals may be changed at any time, and are primarily used for mapping and navigation purposes.
Contact any Federation Ambassador to apply for membership. It is recommended that you use the "Accession negotiations" feature of the subreddit, as we will be able to most quickly update your information.
Admission
After your civilization is accepted:
Your civilization will show on the 3rd tab of Pilgrim Star Path.
Your civilization will be added to the subreddit, wiki page and map.
Representatives receive ambassador status.
Additional Information
Note: One civilized space zone, one vote. One ambassador, one civilized space zone. Additional companies or civilizations of the same ambassador are not considered in the Federation. Up to three ambassadors can be appointed per zone.
Historical collection: Civilized Space History, Civilized Space Maps and Civilized Space Emblems.
Road map: Hall of Fame / UFT Shared Zone / Unification Day
Interloper's Guide to the Galaxy - Complete Guide to NMS.