There are multiple game-release versions of the United Federation of Travelers embassy page.
---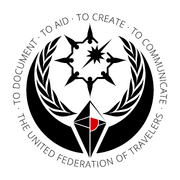 The United Federation of Travelers is an alliance of civilized space zones.
Summary
[
]
The United Federation of Travelers, more often just called the Federation, is a republic of Civilized space zones (communities of players) in the Euclid and Hilbert galaxies. It was formed on April 15th, 2017, and went public on April 25th, 2017. The Federation's purpose is to unite civilizations behind universally beneficial goals without hindering any sovereign civilization's customs or practices, and to assist in the founding of new civilizations in the first three galaxies. While fan-fiction/roleplay elements can be involved, the Federation is mainly concerned only with actual gameplay features related to Civilized space. Federation Civilizations are left to manage their own fan-fiction/roleplaying/lore.
The Federation's main website is the Federation Subreddit.
Universally Beneficial Goals
[
]
To Document, Aid, Create, and Communicate. These are the Federation's primary goals. All Federation civilizations are expected to follow them and encourage their citizens to follow them.
Centralization of Information

[

]
To document all No Man's Sky-related information on a single Wiki (this Wiki). Current NMS info is spread out over many sites and largely outdated. Additionally seeks to have a centralized database linking to various Reddit-based NMS info (Coordinate thread from r/NoMansHigh, bug thread from r/NoMansSkyTheGame, Fauna Guide from r/NMS_Zoology, etc). This centralized information thread can be found here: Information Central: All Things NMS.
Hub Establishment

[

]
To aid groups with the establishments of new Hubs in the Hilbert Dimension and the Calypso Galaxy, and to aid any existing Hubs.
Help with Civilization Founding

[

]
To create an environment where those with experience establishing and managing NMS civilizations can give tips to those wishing to establish new civilizations (such as placing new civilizations in the "Goldilocks zone," the easiest location for most players to travel to).
Visibility & Inter-Civilization Communication

[

]
To communicate with known Civilized Space zones. To provide a place for new communities to announce their plans and news without being buried by other NMS threads. To clearly list contact info for Ambassadors/Representatives of civilizations, and provide a place for civilization Ambassadors/Representatives to communicate with each other.
Map
[
]
Image Map of the Federation as of August 11, 2017.
Clicking on a civilization in the picture causes the browser to load the appropriate article / Mouseover = Coordinates.

Federation Civilizations
[
]
Coordinates are for their capital systems, which may or may not include a capital planet. If the coordinates say "PART4", just leave that part off while using Pilgrim Star Path (or other plotting apps). The fourth set of coordinates isn't directly used in mapping, so it's not needed (but leaving it off entirely messes up the formatting).
Euclid
[
]
Hilbert
[
]
Joining the Federation
[
]
https://old.reddit.com/r/NMS_Federation/comments/6687mz/the_federation_explained/