Calium
Type
Exotic
Rarity
Very Rare
Blueprint Value
289.0
Symbol
Ca
Updated
Atlas Rises
Calium is a resource.
Summary
[
]
Calium (Ca) is a very rare resource, and a member of the purple Exotic elements class.
This rare substance can be found on extremely hostile planets. Its appearance can be a blob-like species or a green spherical deposit depending on the environmental hazard of the planet they are found on. The textures of either are randomly generated.
Game description
[
]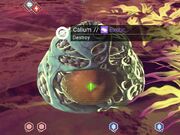 Rare substance found in many blob-like creature throughout the Galaxy.
Use
[
]
Calium is an obsolete resource and no longer has a purpose in the game.
Additional information
[
]
Calium can be sold in the Marketplace.
Can be found in a mine-able orb on a planet's surface. (Found on extreme toxic gas or high radiation planets)
Can be found in a blob-like "plant" emitting gas on a planet's surface. (Found on an extreme radioactive gas planet)
Can be found after feeding an animal.
Release history
[
]
Gallery
[
]