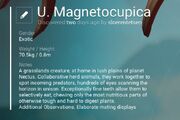 Creatures - Discovery Menu is a game mechanics page.
Summary
[
]
The Discovery Menu section on a Fauna discovery page is composed of several text sections describing a creature. These sections include:
Name - the creature's name (or rename if applicable)
Discovered - the name of the player that discovered the creature, and when
Gender - the creature's gender
Height/Weight - the height and weight
Notes - a set of sentences randomly selected from a standard set. Some of the sentences are customized based on the creature's planetary location.
Additional Observations - a short phrase, apparently randomly selected.
Name generation
[
]
The names are procedurally generated with certain customized terms (such as the name of the planet) being inserted in the proper spot.
Text copy apps
[
]
There are a number of free OCR apps that can be used to capture data from a screen, then turn it into text which can be easily pasted into a wiki page. They save a lot of typing.
A list of eight recommended free apps can be found here.
Sentence list
[
]
<CreatureName>
[
]
A-B
[
]
A careful hunter, they stalk their prey along long-distance migration routes. They [sic] weak are picked off as the journey wears them down. (BEHAVIOUR)
A clever and ruthless predator, they frequently make a kill and leave the carcass uneaten, as if hunting purely for pleasure. (BEHAVIOUR)
A cold-blooded killer, this creature will spend days hunting for an ideal target, ignoring the effects of starvation. (BEHAVIOUR)
A crafty hunter, known to kill the young of [sic] of competing species. (BEHAVIOUR)
A cruel and dangerous predator, it has evolved a remarkably muscular jaw. It occasionally crushes even its own teeth. (BEHAVIOUR)
A dangerous hunter, their sense organs appear to swell as they detect the stress hormones of their prey. (BEHAVIOUR)
A dangerous predator, their fast-response adrenal glands allow them to go from rest to rage in mere moments. (BEHAVIOUR)
A desperate, ravenous hunter. Inefficient energy processing means this creature is forever seeking their next meal, hunger overriding any sense of danger. (BEHAVIOUR)
A fearless, highly specialised hunter. Shortened neural pathways allow for near-instant cognitive processing, eliminating the need for base emotion. (BEHAVIOUR)
A foolhardy beast, it rampages towards its prey without caution or subtlety. (BEHAVIOUR)
A forager, they search the ground for the fallen nuts that provide their main nutrient source. (DIET)
A forest creature, at home flitting in and above the rich canopies of planet <PlanetName>. (ENVIRONMENT)
A gnawing hunger for sugar drives their every waking moment; their existence a constant hunt from sweet plant to the next. (DIET)
A grasslands creature, at home in lush plains of planet <PlanetName>. (ENVIRONMENT)
A higher order intelligence lives within its skull. The analysis process reveals an eidetic memory, though some brain functions appear resistant to the scanner. (BEHAVIOUR)
A highly specialised digestive systems [sic] allows them to eat the <BiomeFood> that grow on their home planet. (DIET)

A highly specialised digestive systems [sic] allows them to eat the Fungal Cluster that grow on their home planet. (DIET)
A highly specialised digestive systems [sic] allows them to eat the Gamma Weed that grow on their home planet. (DIET)
A highly specialised digestive systems [sic] allows them to eat the Star Bramble that grow on their home planet. (DIET)

A highly territorial predator, their excellent memory and long-range vision allow them to hunt across vast distances. (BEHAVIOUR)
A lethal predator, this creature reuptakes all inhibitory neurotransmitters when stalking a chosen target. (BEHAVIOUR)
A natural predator, they stalk their prey with great care. (BEHAVIOUR)
A patient hunter, their highly evolved sense organs allow them to detect prey at extreme distances. (BEHAVIOUR)
A patient predator, they are willing to wait for days on end for the perfect moment to strike. (BEHAVIOUR)
A plague upon stranded adventurers, as they feast upon di-hydrogen crystals. Their highly reactive saliva dissolves the crystals without the need to chew. (DIET)
A reckless predator, they charge into fights, caring little for stealth or ambush. (BEHAVIOUR)
A reckless predator, they happily hunt creatures far larger than themselves. (BEHAVIOUR)
A remarkable fusion between their optic nerve and hippocampus means visual data is instantaneously and perfectly stored. An adaptation for navigation, perhaps. But it ensures they will never forget you. (BEHAVIOUR)
A sharp intelligence flashes in their eyes. They are careful, methodical hunters. (BEHAVIOUR)
A slow but relentless predator. Once they have begun their hunt there is little that will stop them. (BEHAVIOUR)
A specially-adapted tongue indicates their diet is predominantly nectar, harvested from local flora. (DIET)
A tireless predator, they have no natural enemies. Their ferocity knows no bounds. (BEHAVIOUR)
A vicious beast, it attracts a mate by creating a grisly display from the bones of its prey. (BEHAVIOUR)
A vicious killer, there is a spark of malice lurking behind its cold, intelligent eyes. (BEHAVIOUR)
A vicious predator, they chase their prey with reckless abandon. (BEHAVIOUR)
A vicious predator, they take great care as their [sic] hunt down their prey. (BEHAVIOUR)
A well-regulated digestive system means they need only feed very occasionally. They are free to be patient in their search for prey. (BEHAVIOUR)
A wide-ranging creature, <CreatureName> was found in the grasslands of planet <PlanetName>. (ENVIRONMENT)
A wide-ranging flier, <CreatureName> was recorded above in [sic] the grasslands of planet <PlanetName>. (ENVIRONMENT)
Adrenaline glands embedded throughout the dermal layer suppress this beast's awareness of pain. (BEHAVIOUR)
After making a kill, these carnivorous beasts shatter the skulls of their prey and offer the brain matter to the oldest member of their pack. (DIET)
After making a kill, they will preserve the blood of their prey in coagulated lumps. These stores serve them well during lean patches, times when their hunts go unsuccessful. (DIET)
Aggressive hunters, they make a meal of any fish unfortunate enough to get caught in their jaws. (DIET)
All-consuming in their hunger, these carnivores will turn cannibal with little provocation, happy to feast upon their kin. (DIET)
Always hungry, they seek out and consume the <BiomeFood> that grow freely across this world. (DIET)
Always on the lookout, their cautious nature reflects the sudden and violent cruelty of their own crude 'society'. (BEHAVIOUR)
Always on the move, these nomadic grazers search far and wide for the perfect grazing sites. (BEHAVIOUR)
An accomplished hunter, this creature attacks effortlessly, almost lazily. (BEHAVIOUR)
An air-dwelling creature, <CreatureName> was discovered above the swamps of planet <PlanetName>. (ENVIRONMENT)
An ancient predator, its mind has evolved impulsive hunting instincts. With no higher brain function, they simply follow the aggressive impulses that flash across their synapses. (BEHAVIOUR)
An efficient hunter with high energy reserves. Deters other predators with untiring aggression. (BEHAVIOUR)
An endothermic predator, this creature maintains a low body temperature while resting. The scent of prey accelerates their metabolism, warming their blood for the hunt. (BEHAVIOUR)
An impulsive hunter, they are quick to lash out at any creature unfortunate enough to wander into their territory. (BEHAVIOUR)
An indiscriminate killer, this creature will rarely disengage from a conflict while its opponent still lives. (BEHAVIOUR)
An intelligent predator, they hunt with skill and stealth. (BEHAVIOUR)
An oversized frontal lobe enables this predator to form elaborate plans of attack, ensnaring their prey with cunning rather than force. (BEHAVIOUR)
An unkind, jealous predator. They would sooner steal food from their own family than undertake a difficult hunt. (BEHAVIOUR)
At home in the burning air of planet <PlanetName>. (ENVIRONMENT)
At home in the scorched landscapes of planet <PlanetName>. (ENVIRONMENT)
Bold in temperment [sic], this predator is unafraid of even the largest prey. (BEHAVIOUR)
Bold in their habits, competition with their rivals frequently drives them to engage in high-risk hunting behaviour. (BEHAVIOUR)
Brain scans are unable to capture the true essence of their simple happiness. (BEHAVIOUR)
Brain scans reveal unusually developed language centres within the supramarginal gyrus. The method by which they use this power is unclear. (BEHAVIOUR)
Brain scans reveal unusually structured hypothalamus. It appears they perceive time on a different scale to most life, leading to their unflustered, passive temperament. (BEHAVIOUR)
Brutal carnivores, they will begin their bloody feasts even while their prey continues to thrash, its death throes not yet complete. (DIET)
Bumbling and inattentive, they frequently find themselves trapped by both geological hazards and local predators. (BEHAVIOUR)
But there is something particularly unsettling about this creature, some deep shadow hanging over them. They are to be treated with extreme caution. (NOTES)
By day, this is a calm and efficient predator. But at night they appear prone to fits of bloodlust, striking out even when not hungry. (BEHAVIOUR)
C-D
[
]
Calm and methodical creatures, they graze the planet with an air of gentle, unflustered serenity. (BEHAVIOUR)
Calm in spirit, they appear almost serene. This surface impression belies the cruelty latent in this vicious hunter. (BEHAVIOUR)
Carnivores, their appetite for flesh knows no bounds. They swallow it down in great chunks, ripped from the bones of their prey. (DIET)
Carnivores, their desire for <BiomeMeat> knows no limits. (DIET)
Carnivores, their hunger for <BiomeMeat> is never-ending. (DIET)
Carnivores, their hunger for <BiomeMeat> knows no bounds. (DIET)
Carnivores, they happily tear through the flesh of their prey, desperate to feast upon the offal found deep within the carcass. (DIET)
Carnivores, they prefer to hunt larger creatures. They strip the flesh from the bones of their prey before finally consuming the marrow in a way that is almost ritualistic. (DIET)
Carnivorous but opportunistic, these beasts will happily raid the corpse of some other hunter's prey. (DIET)
Carried by the currents as much as by their fins, their lives know no order, no system. They simply exist wherever greater forces have placed them. (BEHAVIOUR)
Carried by the wind as much as their wings, these small insects live a scattered and chaotic existence. (BEHAVIOUR)
Cautious and deliberate, they skitter from hunt to hunt, always on the lookout for those who would steal their prey. (BEHAVIOUR)
Cautious by nature, they stalk their prey carefully. Once they have selected a target, this methodical hunter rarely fails to make a kill. (BEHAVIOUR)
Cautious by nature. Even when facing starvation, they do all they can to avoid straying into unknown territory. (BEHAVIOUR)
Chemically-adapted blood and an unusual metabolism keep <CreatureName> warm on the snowfields of planet <PlanetName>. (ENVIRONMENT)
Chemically-adapted blood and an unusual metabolism keep <CreatureName> warm on the snowy air of planet <PlanetName>. (ENVIRONMENT)
Clean, fastidious eaters. They butcher the corpses of their prey, preparing each chunk of flesh on some instinctive schedule. They appear to reserve the hearts of their prey for consumption only during specific lunar phases. (DIET)
Collaborative herd animals, they work together to spot incoming predators, hundreds of eyes scanning the horizon in unison. (BEHAVIOUR)
Comfortable amongst dense foliage, they sniff and scurry among fallen leaves, searching for the nuts that provide their food. (DIET)
Constantly hungry, their specially adapted teeth and guts allow them to consume entire trees, from leaf to sap to trunk. (DIET)
Curious and intelligent, their nests are stuffed with brightly colour [sic] rocks and slivers of metal. Some build elaborate metal structures, showing remarkable artistry. (BEHAVIOUR)
Delicate feeders, they nibble selectively at local flora, ensuring they never entirely strip an area of foliage. (DIET)
Dense teeth and a series of extremely acidic stomachs allow them to consume a diet mostly consisting of rocks. (DIET)
Dental analysis reveals jaws and teeth well-adapted to the ripping of flesh from bones, to the chewing life from other beings. (DIET)
Despite the fierce heat, <CreatureName> survives happily on planet <PlanetName>. (ENVIRONMENT)
Discovered amidst the <BiomeWeather> of planet <PlanetName>.
Discovered amidst the grit and dust of planet <PlanetName>. (ENVIRONMENT)
Discovered amidst the parched and tortured hills of planet <PlanetName>. (ENVIRONMENT)
Discovered amidst the thermonuclear fog of planet <PlanetName>. (ENVIRONMENT)
Discovered floating among the apparently non-sentient bubbles of planet <PlanetName>. (ENVIRONMENT)
Discovered in the rainy marshes of planet <PlanetName>. (ENVIRONMENT)
Discovered on <PlanetName>, where they survive despite hostile levels of background radiation. (ENVIRONMENT)
Discovered on <PlanetName>, where they survive the dry and barren conditions. (ENVIRONMENT)
Discovered on planet <PlanetName>, <CreatureName> swims freely in the temperate, bountiful water of its home seas. (ENVIRONMENT)
Discovered on planet <PlanetName>, where they make their home <HomeDescription>. (ENVIRONMENT)
Discovered on planet <PlanetName>, where they make their home amidst the ice. (ENVIRONMENT)
Discovered on planet <PlanetName>, where they make their home in sub-zero air. (ENVIRONMENT)
Discovered on the sun-battered surface of planet <PlanetName>. (ENVIRONMENT)
Discovered on the sun-soaked atmosphere of planet <PlanetName>. (ENVIRONMENT)
Discovered soaring over the grit and dust of planet <PlanetName>. (ENVIRONMENT)
Discovered while exploring the overwhelming heat of planet <PlanetName>. (ENVIRONMENT)
Drawn by magnetic forces on long journeys across the planet, their lives are spent in constant motion. (BEHAVIOUR)
Drawn to sugar, they consume the small fruits that fall from local flora. (DIET)
Drawn to the smell of death, their primary nutrient source is Mordite. They do not discriminate between beast or plant. (DIET)
Drawn to verdant landscapes, <CreatureName> is found on lush, temperate worlds. (ENVIRONMENT)
Driven by blind fury, this predator is oblivious to all but their prey during a hunt. (BEHAVIOUR)
E-F
[
]
G-N
[
]
O-S
[
]
T
[
]
U-Z
[
]
Additional Observations list
[
]
Absorbs humidity
Absorbs moisture from air
Acidic blood
Alluring pheromones
Always waiting
Always watching
Armored skull
Armoured skull
Asexual reproduction
Autonomous regeneration
Aware of its fate
Barbed feet
Beloved by the Gek
Bioluminescent blood
Bioluminescent teeth
Blue blood
Bonds with Vy'keen
Born on meteors
Both gills and lungs
Brain hemispheres not linked
Breathes through mouth
Brittle bones
Bruisable organs
Builds metal nest
Buries food supplies
Burns in the sun
Calcified claws
Can change color
Can change colour
Can dislocate jawbones
Can feel love
Can sense magnetic fields
Cannot digest starch
Cannot drown
Cannot see colour
Cannot sweat
Carbon-based skeleton
Carries babies in pouch
Carries symbiotic fungus
Carries symbiotic worms
Caustic skin
Changes gender when cold
Chromatophore
Claws harbour disease
Colour-blind
Compound eyes
Covered in tiny hairs
Covered in toxic bristles
Creates beautiful webs
Cutaneous respiration
Decentralised nervous system
Deceptively fast
Delicious
Detachable tongue
Digests via symbionts
Digs underground nests
Dislikes being scanned
Dislikes bright colours
Does not age
Double-coned eyes
Drinks blood
Easily confused
Easily trained
Echolocation glands
Elaborate mating displays
Establishes connections with Vy'keen
Evil
Excellent navigator
Excellent sense of smell
Excess of bile
Extensive gut bacteria
Extremely heterozygous
Extremely homozygous
Eyes regrow after damage
Fear of fire
Fears the rain
Flexible joints
Forms colonies
Fragile skin
Fragile skull
Fragrant
Frequently lost
Frequently regurgitates
Gelatinous bones
Genetically unstable
Gentle soul
Gets cold easily
Gets lost often
Goes underground to die
Good parent
Good pollinator
Green blood
Grows lungs after birth
Grows wings before death
Has a language
Has chlorophyll glands
Has no bones
Hatched from cocoons
Hears ground vibrations
Hibernates
Hidden extra claws
Hidden extra skull
Hidden extra tongue
Hidden stinger
Highly fertile
Highly intelligent
Highly social
Hunts Sentinels
Hibernates
Hybrid species
Hydrophobic
Inflates when stressed
Inverted organ sacs
Irritable
Knows its destiny
Lacks gallbladder
Laden with nectar
Lays beautiful eggs
Limited mind control
Limited sentience
Looks for red flowers
Lovely eyes
Made of stardust
Magnetic teeth
Makes art with sticks
Many hidden toes
Massive tongue
Mates for life
Matriarchal society
Metal bones
Mildly radioactive
Monstrous tongue
Moon Baby
Needs dietetic iron
Nests in blue foliage
Never blinks
Night vision
Nine additional senses
Nitrogen-rich blood
No stomach
Not carbon based
Nutritious faeces
Occasionally eats rocks
Occasionally invisible
One extendible finger
Parasites in brain
Partially domesticated
Particularly oily
Photosensitive
Poor hearing
Poor sense of direction
Porous skin
Possesses language
Powerful digestive enzymes
Powerful mandibles
Pretty eyes
Produces vile stench
Promiscuous
Rapid self-healing
Recognises other species
Redundant internal organs
Regrows teeth each day
Regularly sheds skin
Requires dietary iron
Respires anaerobically
Respires inorganically
Retractable appendages
Retractable eyestalks
Retractable limbs
Riddled with pests
Rigid bones
Rubber skull
Saliva pH 14
Scared of fire
Scared of mirrors
Screams when upset
Secondary skin
Secretes phytotoxins
Secretes venom
Seeks red flowers
Self-aware
Sense organs in feet
Senses ATLAS
Sharp claws
Sheds and regrows bones
Sings beautifully
Six stomachs
Skin parasites
Skull full of holes
Sleeps standing up
Smells with tongue
Spawns in water
Sprays ink when scared
Stomach inside skull
Stores water in hidden sacs
Strong burrower
Strong digger
Strong swimmer
Strongly radioactive
Superheated stomach
Sweats milk for infants
Symmetrical insides
Tapeworm host
Technically immortal
Telepathic
Thick skull
Three hearts
Ticklish
Tiny brain
Tiny organs
Tongue parasites
Toughened skin
Toxic tongue
Translucent teeth
Transmits symbiotic mushroom
Two livers
Ultrasonic roar
Ultrasonic scream
Unpleasant to eat
Untameable
Valuable blood
Varied phenotype
Venom-laden claws
Versatile joints
Vestigial udders
Waxy all-over
Weak lungs
Well insulated
Yellow blood
Gallery
[
]