The Exosuit allows the player to survive hostile environments on planets and moons. It can be used on both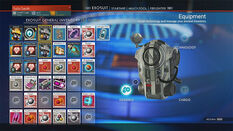 land and water.
The exosuit acts as an inventory storage space. It also has four areas of specification: health, hazard protection, stamina, and utilities. Exosuit technologies can be installed to increase survivability, and the number of inventory slots can be increased to 48.
Inventory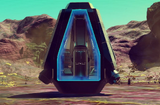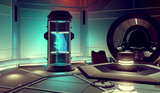 Main article: Inventory
The exosuit has 12 inventory slots by default. Inventory can be expanded to a total of 48 slots by purchasing exosuit upgrades found at Drop Pods, or the exosuit upgrade station found in every Space Station.
A Drop Pod is stand-alone object found on planets and moons. A Signal Scanner can detect a Drop Pod by choosing the "Shelter" option. The exosuit upgrade station is located behind the AtlasPass v1 door in the Space Station landing area.
The first exosuit upgrade is free. The second upgrade will cost 10,000 units. The third upgrade costs 20,000 units. With each upgrade purchased the price for the next upgrade increases by 10,000 units. The total cost for all upgrades is 6,300,000 units.
Life support

Main article: Life Support
To maintain acceptable levels of life, the device MUST keep power cells online and operational at all times.


Hazard protection

Main article: Hazard Protection
Hazard Protection provides basic environmental shielding against extreme temperatures, radioactivity, and toxicity. The device operates automatically, and is charged with Oxide elements such as Zinc or Titanium. It can also be recharged with consumable products, such as a Shielding Shard, which are found in yellow Cargo Drops or crafted by the player. Occasionally, flora which can restore shielding can also be found.


Jetpack
Flightpack that uses lightweight canisters to create bursts of safe, neutralized gas to temporarily render the user airborne.
The jetpack allows the character to fly short distances and climb steep ridges.


Exosuit upgrades
Main article: Technology
Health
Health upgrades increase the ability to survive the rigors of galactic exploration.
Name
Description
Tier
Recipe
Health Module
Increases user's health once primary systems have failed.
Sigma
Tau
Theta
Shield Boost
Shield duration and charge capacity is improved.
Sigma
Tau
Theta
Protection
Protection technology provides specific environmental protection.
Name
Description
Tier
Recipe
Coolant Network
User is guarded from extreme heat damage on scorched worlds.
Sigma
Tau
Theta
Thermic Layer
User is guarded from extreme cold damage on frozen worlds.
Sigma
Tau
Theta
Radiation Deflector
User is shielded from radiation damage.
Sigma
Tau
Theta
Toxin Suppressor
User is protected from toxic damage.
Sigma
Tau
Theta
Stamina
Stamina is required to sprint. When the character's stamina is depleted, they will stop running and stamina will slowly recharge. Stamina technology affects the ability to move on the ground and in water. The ability to sustain a sprint, or breathe underwater, can be extended with upgrades.
Name
Description
Tier
Recipe
Aeration Membrane
User is able to swim underwater for extended periods.
Sigma
Tau
Theta
Stamina Enhancement
User is able to run for extended periods.
Sigma
Tau
Theta
Utilities
Utility technologies provide enhancement to existing systems.
Name
Description
Tier
Recipe
Jetpack Booster
Jetpack is granted extended bursts of propulsion, allowing user ascent to higher locations.
Sigma
Tau
Theta
Life Support Module
Increases Available energy within user's Life Support Systems.
Sigma
Tau
Theta
Gallery
Community content is available under
CC-BY-SA
unless otherwise noted.