Eyugoi
Galaxy
Hilbert Dimension
Region
Louyen
Color
Yellow
Spectral class
F3p
Distance to centre
3,878 light‑years
Galactic coordinates
0802:0086:0805:01D4
System ID
468
Planet(s)
3
Moon(s)
1
Waterworld
Yes
Faction
Gek
Economy
Material Fusion
E-Sell
73.9
E-Buy
-26.7
Wealth
Balanced
Conflict level
Medium
Claimed by
Alliance of Galactic Travellers
Discovered by
ArononymouS
Game Mode
Normal
Updated
Frontiers
Eyugoi is a star system.
Summary
[
]
Eyugoi is a yellow star system in the Louyen region. It contains 3 planets and 1 moon. The Gek faction inhabits this system. The system economy is primarily material fusion. The economic conditions are balanced.
The star system is estimated to be 4.9 billion years old.
Alias Names
[
]
Discovered
[
]
By PC explorer ArononymouS on AGT Stardate 3733.21.10 (21-Oct-2017). There is a claim documented by Alliance of Galactic Travellers. This system is informally considered part of the AGT as it is in a region claimed by the AGT.
Planets & Moons
[
]
The following planets and moons are present in the system:
Undocumented Planet/moon 2
Undocumented Planet/moon 3
Undocumented Planet/moon 4
Starships
[
]
No documented starships found at these coordinates.
Multi-Tools
[
]
Location Information
[
]
It is located in the Louyen region. It is estimated to be 4,128 light years from the galactic centre of the Hilbert Dimension galaxy.
Coordinates
Glyphs
01D407006003
[

]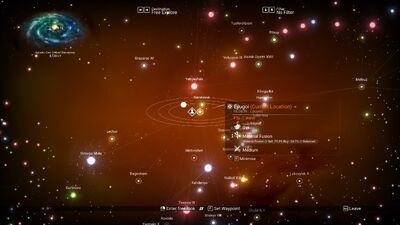 Interstellar Distances
[
]
Inter-Region Stellar Distances
[
]
Space Station
[
]
The following Trade Commodities are found at the Galactic Trade Terminal:
A Class B-14 slot Electric Inertial Needler Rifle Multi-tool was found at the Space Station.
Additional Information
[
]
Documented based on site surveys during AGT Stardate 3738.10.2 (10-Feb-2022).
Survey research contributed by the CELAB Galactic Industries research team.
Surveyor on record: celab99
Documented Base Count: 0
Gallery
[
]
AGT Galactic Archives
[
]