This page fills the role of Embassy for the Galactic Hub Eissentam community in Civilized space.
The information found here represents a user-created civilization hub that is a creative addition to the game.
This page fills the role of Embassy for the Galactic Hub Eissentam Civilized space community.
The information found here represents a user-created civilization hub that is a creative addition to the game.
Galactic Hub Eissentam is Civilized space community.
New Interlopers
[
]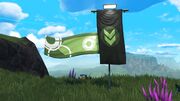 Galactic Hub Eissentam is an expansion of the Galactic Hub Project community into the 10th galaxy, Eissentam.
Galactic Hub Eissentam, also known as EisHub or EHUB, is located at the same coordinates as the Galactic Hub in Euclid, but in the 10th galaxy (the "Tranquil" galaxy). Those playing Survival and Permadeath tend to migrate here when they realize the increased probability of finding a suitable Paradise.
With a large number of members, Galactic Hub Eissentam is home to one of the larger populations of players in Eissentam. The civilization occupies 27 regions, located approximately 672,000 light-years from the Center of Eissentam. This small area of space offers players the opportunity to meet other players, visit bases, share discoveries, and more. See "Benefits" section for more details.
Interloper Census
[
]
Upon reaching the Galactic Hub Eissentam, the first thing you should do is verify citizenship status by filling out the EisHub Census Form. This allows us to chart the size of our civilization, track more densely populated regions, allows citizens to locate same game mode players, and also share your discoveries on social media! You can view the entire census of players on our Census - Galactic Hub Eissentam
Benefits
[
]
Documentation - Clearly locate desirable ships, multi-tools, freighters, and technology; fascinating flora and fauna; useful resources; and much more. Contribute with the knowledge that you're part of a semi-scientific community and helping other Interlopers.
Multiplayer Elements - Due to its high population, the Galactic Hub Eissentam is the #1 location for multiplayer interactions, whether that means seeing other players bases, a variety of Communications Stations, or just frequently coming across discovered systems. Community Farms allow players easy access to valuable and/or useful resources. We also have various purposefully-planned multiplayer events, like the EisHub Haunt Event.
Community - The community extends beyond the in-game multiplayer elements. Our community has created over 1000 wiki pages, has 1000+ Subreddit subscribers, a variety of resources (see "3rd Party Tools" section), and even a Redbubble shop for Galactic Hub merchandise. More importantly than just the features, the Galactic Hub community are friendly, often very experienced Interlopers. We ask that new players do some basic research, but we're always willing to help anyone who needs it.
Naming Convention
[
]
The Galactic Hub uses specific naming guidelines in-game. Names created using these guidelines mark the system as Galactic Hub space, and can share a variety of important information in a small number of characters. Such names can be very useful to other Interlopers. See Galactic Hub Naming Guidelines.
Regions Occupied
[
]
Layer
HUB Region
Galactic Coordinates
Portal Coordinates

Central

042F:0078:0D55:0000

042F:0078:0D54:0000

0430:0078:0D54:0000

0430:0078:0D55:0000

0430:0078:0D56:0000

042F:0078:0D56:0000

042E:0078:0D56:0000

042E:0078:0D55:0000

042E:0078:0D54:0000

0000F9556C30

0000F9555C30

0000F9555C31

0000F9556C31

0000F9557C31

0000F9557C30

0000F9557C2F

0000F9556C2F

0000F9555C2F

Upper

042F:0079:0D55:0000

042F:0079:0D54:0000

0430:0079:0D54:0000

0430:0079:0D55:0000

0430:0079:0D56:0000

042F:0079:0D56:0000

042E:0079:0D56:0000

042E:0079:0D55:0000

042E:0079:0D54:0000

0000FA556C30

0000FA555C30

0000FA555C31

0000FA556C31

0000FA557C31

0000FA557C30

0000FA557C2F

0000FA556C2F

0000FA555C2F

Lower

042F:0077:0D55:0000

042F:0077:0D54:0000

0430:0077:0D54:0000

0430:0077:0D55:0000

0430:0077:0D56:0000

042F:0077:0D56:0000

042E:0077:0D56:0000

042E:0077:0D55:0000

042E:0077:0D54:0000

0000F8556C30

0000F8555C30

0000F8555C31

0000F8556C31

0000F8557C31

0000F8557C30

0000F8557C2F

0000F8556C2F

0000F8555C2F
[

]
See Interloper's Handbook - Guide to the Galactic Hub for a guide on how to reach the Hub, how to contribute to the Hub, customs of Hub life, and more.
Third Party Tools / Related Websites
[
]
EisHub Discord our Eissentam Hub Discord server allows us to communicate regarding day to day operations within the Eissentam HUB Division.
EisHub Subreddit the EisHub Subreddit makes announcements and discoveries easy to share. Follow it for regular updates about our civilization.
EisHub YouTube our YouTube channel holds our largest announcements, along with exclusive features of bases, colonies, events, and more.
GH Discord the GHub Discord server allows Hub players to easily chat in a less "structured" environment than the Subreddit. Note that it is for the Euclid Hub, and the EisHub Discord is above.
Best of Galactic Hub Eissentam & Content Directory
[
]
EisHub's Greatest Discoveries
[
]
For a list of EisHub's most proud discoveries, ranging from fauna to starships, see Discovery Achievements. This constantly updated list holds
Fauna
[
]
Fauna Albums: See EisHub Fauna Catalog for all fauna currently being tracked in Eissentam.
See EisHub Creatures List for an automatically updated complete list of documented fauna found within the the Galactic Hub Eissentam (a total of 498 so far).
Flora
[
]
Planets
[
]
See EisHub Planet Catalog for all interesting and unique planets that have been discovered in EisHub.
Truly unique planets are featured in the EisHub Unique Planets Album for all different biomes.
Starships
[
]
Freighters
[
]
Multi-tools
[
]
Bases
[
]
Colonies
[
]
Poster
Name
Location
Notes
Discoverer
Neo Asgard
(Default: Wate 14/C3)
Erverdiso XVII

042F:0079:0D56:01EE


51EEFA557C30

Capital Planet
The capital planet is filled with bubbles and blue/green grass that glows in the darkness. With water separating the large land forms spread across a slightly hilly landscape, there's beautiful locations and spots for builders. All along with stunning giant butterflies and large diplos.
Mimsley
Remnants of Hubris
Hagater I

042F:0077:0D56:0086


6086F8557C30

Major Colony
The largest EisHub project to date, featuring six stunning builds, three planets with Mechanoceris, tons of natural resources, and extensive lore written by our builders. Come for the beautiful views, amazing bases, and wide planet variety for anyone to settle on.
I__Simulacra__I
Ides of Spring
Tasforaig P50

042E:0078:0D54:0033


1033F9555C2F

Spring Colony
A spring colony released on May 1st, 2021, focusing on flora and taking advantage of the beautiful planet of Tasforaig P50. The colony has six featured builds. It also launched with a livestream tour of each base and a live event for all citizens to participate in.
FelipeBatista
EisHub Haunt Event
HUB9-102 Rudobskap XVI

072E:0078:0D54:0102


1102F9555C2F

2020 Halloween Colony
The EisHub Haunt Event, held between October 23rd and October 29th, 2020, was the first Halloween in EisHub's history. There was a party on the Discord from 6pm to 9pm on October 29th. The Haunt featured many activities, like a Scavenger Hunt and Skeeball.
Britraptor
Extreme Survival Industrial
HUB15-1A9 Ergrens-Ish

042F:0079:0D56:01A9


41A9FA557C30

Survival Industrial Colony
The Survival Colony for EisHub, Ergrens-Ish is complete with Nitrogen, Circuit Board, Paraffinium, Activated Indium, Dioxite, Radon, Liquid Explosive, Sulphurine, Phosphorus, and Living Glass farms. Each one set up by the creator and discoverer of the colony.
GeckoGT
Helios Descending
Hu

042E:0078:0D54:01E8


31E8F9555C2F

Hyperion Summer Part I: Helios Descending
Big summer colony on planet Oveykov Beta to celebrate the first anniversary of EisHub, featuring six mind-blowing builds from the EPC team and other builders from the intergalactic civ family. It took place on 10 July, 2021.
Nukie
Eos Rising
HUB24-C6 Milwor VIII

042F:0077:0D56:00C6


20C6F8557C30

Hyperion Summer Part II: Eos Rising
Big summer colony featuring six beautiful builds from the EPC team and other builders from the intergalactic civ family on Albafungia, the planet with the first known GMB in EisHub space. It took place on 7 and 8 August, 2021.
Junebug
Winter of Eis
Winter of Eis

042E:0078:0D54:01B8


01B8F9555C2F

Winter of Eis
It's a winterloper wonderland. Join us and settle down on the coldest system in EisHub! Come and show us your winter-creativity. It was announced on 9 December, 2021.
BritRaptor
Mini-Events
[
]
Mini-events are smaller, community run events that require less planning and resources. Mini-events can be suggested by any member, and they will then work with the Event Planning Committee. Each event is sponsored by the Event Planning Committee, and must be in EisHub Space. Most importantly, mini-events promote community building and involvement.
Traderoutes
[
]
Multiplayer Content
[
]
The Galactic Hub Eissentam has multiple ways in which citizens can contribute. We have our own departments for wiki documentation, building, helping new players and press, and also share the chapters of the Galactic Hub. For further information see Galactic Hub Eissentam Multiplayer Content.
Alliances & Sisterfactions
[
]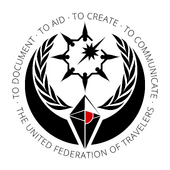 (Refer to the Civilized space page for more info)
United Federation of Travelers
[
]
The Galactic Hub Eissentam is a member of the United Federation of Travelers.
We assist and cooperate with all civilizations, but will always prioritize fellow Federation civilizations and companies.
Galactic Hub Civilizations in Other Galaxies
[
]
There are other Galactic Hubs in different galaxies, all of which are linked below.
Galactic Hub Eissentam Council
[
]
The Galactic Hub Eissentam Council, or Bridge Crew, is a group of players formed with the intention of improving EisHub by creating colonies, helping the wiki, improving civilization experience, and much more.
There are many representatives across multiple aspects of civilization life in the Bridge Crew. They are separate from the Galactic Hub Project's council, as they manage Galactic Hub Eissentam.
The current members of the Bridge Crew are:
The Eissentam Collective
[
]
A loosely affiliated civilization formed by a group of independently wealthy farmers, explorers and base construction specialists who built bases in the Atlas-era huburbs (mostly HUB10 and HUB14) during the last days before NEXT.
Members of the EC originally met on Reddit, just after the great reset and later, decided to continue to maintain a presence in the old Eissentam HUB. The Atlas-era HUB is approximately 12,000 ly away from the NEXT-era HUB. The EC considers itself a sub-culture of the new HUB.
Documented systems
[
]