Galaxy Donuts is a franchise.
Summary
[
]
Galaxy Donuts is a franchise operation with locations in various planetary systems through the Euclid galaxy.
'Galaxy Donuts Swag Shop is Open for Holiday Shopping' and "REDACTED Black Friday" - THE Nerdiest gift for NMS Galactic Hub members. Proceeds to be shared with the Galactic Hub!
Galaxy Donuts History
[
]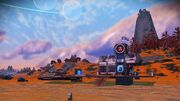 It all began in a lonely minor settlement in a high-conflict desert Gek system. Toilgek Polo spent most of his days sitting at a small table, waiting for a chance visitor in need of a galactic trading terminal or maybe the ten-slot B class pistol long ignored in the wall multitool case. The days were long. The nights cold. Cave crabs and dust storms the only distraction from the endless waiting.
But he dreamed of more. If only he could specialize in something... Polo remembered having enjoyed a circular treat called a "Grahnut!" on a Vy'keen planet. Unable to master the Vy'keen inflection on GRAH! Polo decided to name them "DOHnuts."
In the early years he sold his donuts from the cargo slots of a C Class hauler he found crashed in the desert and repaired slowly. After rescuing a Gek freighter captain who turned out to be a distant uncle, Polo got his first freighter. The ambitious Gek worked tirelessly and eventually built the first Galaxy Donuts.
Today, there are 16 Galaxy Donut locations across three civilizations and two galaxies—and growing. Galaxy Donuts is proud to be Euclid galaxy's first franchise in the No Man's Sky universe, offering 30 out-of-this-world flavors!
Galaxy Donut Franchise Information
[
]
Try a box of our new Aliens Munchkins® in convenient 24 Traveler Pak with Extractable Glyph, or begin your exploration daily with a breakfast wrap and Vy'keen Chai or Gek Cocoa. Fly-in and portal service available at all locations. First aid stations and handy trading terminals and blueprint scanners make us your one-stop shop for just about every need. All locations handicap accessible with the exception of Ice Station Zebra.
Euclid runs on #galaxydonuts! Talk to us ( hollyvalero ) about bringing Galaxy Donuts to your civilized Hub space in Euclid galaxy! If you are within reasonable warping distance, we will be happy to bring a Galaxy Donuts to you!
Galaxy Donut Franchise Request
[
]
Want to create your own Galaxy Donuts?
Fill out the Franchise Request Form
Once approved, you'll find a library of base building videos at YouTube illustrating the most successful build order
There's also an extensive visual reference for checking your work at Imgur
Current & Previous Promotions
[
]
Euclid Galaxy: Find a Galaxy Donuts Near You:
[
]
Photo & Latitude, Longitude
Franchise Data
System notes
Glyphs & Platform

Lat/Long: -49.59, +20.09

Galaxy Donuts 1: HQ: Nova

This beautiful world is reminiscent of the Pacific Northwest at Autumn. Yellow butterflies take the edge off the frequent boiling superstorms, but when it starts to rain hard? Stop inside for hot cuppa coffee and a donut! Also home to our corporate headquarters.

Nudryorob Fringe (HUBURBS)

HUB-BD The Forbidden Zone

Vy'keen Technology//Affluent Fractious

40BDFA556C31

Platform: PS4 & PC

 

Lat/Long: +26.17, -142.17

Galaxy Donuts 2: New Lennon

Roaming diplos aren't the only attraction at the Galactic Hub's new capital. 30 Flavors fresh daily will start your interloping off on the right foot, whether you are teleporting for star silk, or base building. Euclid runs on Galaxy Donuts!

Savenix Instability (HUB10)

Gek, Experimental//Medium Supply, Alarming

106AFA556C30

Platform: PS4

 

Lat/Long: -56.83, +123.45

Galaxy Donuts 3: Poe Station

Come for the crisp desert air and mega-cactus, stay for the bouncies and a box of our signature Alien Munchkins®, now in a convenient 24 Traveler Pak with extractable Glyph for the kids!

The Arm of Vezitinen (HUB1)

[HUB1-E4] Poe System

Vy'keen, Energy Supply//Promising, Relaxed

10E4F9556C30

Platform: PS4

 

Lat/Long: +1.19, +65.94

Galaxy Donuts 4: Triassic Park

Use the elevated flight pad to avoid less-than-diplo-matic encounters between the stegosaurs and diplos running around Triassic Park! The star system may be uncharted, but our menu is well-documented and changes weekly!

Uefert Nebula (HUB6)

[HUB6-191] Triassic Park


Uncharted

1191F9557C30

Platform: PS4

 

Lat/Long: '+82.66, +168.74

Galaxy Donuts 5: Ice Station Zebra

We're taking our donuts to new heights! Spectacular views for miles in all directions pair beautifully with dihydrogen jelly filled donuts and a cup of Gek cocoa! Ask your server about the adjacent mountain's 20+ nav data in the form of red spinning vortex cubes.

Canthian (HUB2)

Jiedabu-Izaw

Uncharted

1168F9555C30

Platform: PS4

 

Lat/Long: +28.32, -49.88

Galaxy Donuts 6: Walker's Point

Stroll our quiet beachfront with friends or rent-a-walker for company! You'll find yourself burning off calories at warp speed! Walker's Point is hiring all shifts and reminds applicants to look into our Sentinel Program for tuition reimbursement.

Dexterf Sector (HUB3)

Eyjafjo

Uncharted

10C1F9555C31

Platform: PS4

 

Lat/Long: +36.45, +87.51'

Galaxy Donuts 7: Crystal Beach

Not just unusual, it's an anomaly! Albino diplos, odd butterflies, and floating crystals right behind the shop are just a few highlights of this magical location! Bring your appetite to Crystal Beach!

The Arm of Katteus (HUB4)

[HUB4-1ED] Expecto Patronum


Uncharted

11EDF9556C31

Platform: PS4

 

Lat/Long: +19.06, -132.91

Galaxy Donuts 8: Tepper's Grass

Off the beaten path, Tepper's Grass has something for everyone. Floating crystals, gorgeous sunsets, vermillion storms, and now offering breakfast wraps with Vy'keen tater tots (careful! spicy!!)

Widraik (HUB7)

[HUB7-201] Tepper's Grass


Uncharted

1201F9557C24

Platform: PS4

 

Lat/Long: +18.76, +80.47

Galaxy Donuts 9: Butterfly Beach

Butterflies are free, and for a limited time, so is our 24-Traveler Pak of Alien Munchkins® whenever you purchase a jumbo Gek or Vy'keen beverage with a box of 12 donuts of any flavor! Euclid runs on Galaxy Donuts!

Nonlopsi Instability (HUB11)

[HUB11-21E] Kiisa


Uncharted

121EF855630

Platform: PS4

 

Lat/Long: -56.64, -70.26

Galaxy Donuts 10: Sunrise Cove

Nothing goes better with a picture-perfect sunrise than a cup of Gek Chai. Ask about our new Vy'keen breakfast wraps! Grah!!

Airnaka Conflux (HUB8)

[HUB8-15E] Galapagos


Uncharted

115EF9556C2F

Platform: PS4

 

Lat/Long: +35.47, -34.58

Galaxy Donuts 11: Sentinel Island

When they go low? We go high–way high! Fly-in service only recommended at our latest island location! Try a tasty Korvax Krumble muffin with Walker Brain dipping sauce. Remember, Euclid runs on Galaxy Donuts!

Nugsdor Adjunct (HUB5)

[HUB5-16A] Patronus

Uncharted

116AF9557C31

Platform: PS4

 

Lat/Long: +60.44, +6.14

Galaxy Donuts 12: Lurelin Village

Home of the Walker Brain Smoothie! Remember, Euclid runs on Galaxy Donuts!

Sivess Instability (HUB9)

[HUB9-A] Monhegan

Uncharted

10A1F9555C2F

Platform: PS4

 

Lat/Long: -0.33, +71.58

Galaxy Donuts 13: AQUA One

We are excited to announce that Galaxy Donuts has expanded operations to New Aquarius! Visit our first location in AQUA1-1 for a free Walker Brain Smoothie® while supplies last! Also featuring a new limited time offer: the Quad Servo Pak! Remember, Euclid runs on Galaxy Donuts.

Kuungn Conflux (AQUA)

[AQUA1-1 Aqua One] New_Aquarius

Gek, Ore Processing // Adequate, Mild

1001F9558C31

Platform: PS4

 

Lat/Long: +11.55, +47.83

Galaxy Donuts 14: AQUA Two

Our second New Aquarius location in Notwertja! Coming soon to our breakfast menu: Humming Egg Scramble and Whispering Egg Wraps!

Notwertja (AQUA)

[AQUA2-A7 Lost Shepherd ] New_Aquarius

Korvax, Metal Processing // Flourishing, Trivial

10A7FA558C30

Platform: PS4

 

Lat/Long: +39.14, -164.77

Galaxy Donuts 15: Pandisk Portal

Our First location in the Alliance of Galactic Traveller's civilized space of Yihelli Quadrant! First to offer Sac Venom Bites #theyhurt

Yihelli Quadrant (AGT)

[AGT Pandisk-Delta VI ] Alliance of Galactic Travellers

Vy'keen, Nano-construction // Medium Supply, Unruly

1104F3545C3E

Platform: PS4

 

Lat/Long: +2.79, -2.39

Galaxy Donuts 16: Wicomico Beach

Temperate climate, no storms, farm nearby.

Mariner-Jonanko

Korvax, Fuel Generation// Satisfactory, Boisterous

11FF03551C50

Platform: PC

 

Lat/Long: +22.3, +64.38

Galaxy Donuts 17: Korvaxu

Need to warm up? At Korvaxu Galaxy Donuts, you don't just get hot coffee and warm donuts -- we guarantee a hot shower every five minutes or less! Complete traveller's services nearby, including first aid, accommodations, a carbon farm and a refinery.

Korvax Ascendency


Korvax, Manufacturing// Prosperous, Tranquil

103702934E3E

Platform: PC

 
Galaxy Donuts Intergalactic
[
]
Photo & Latitude, Longitude
Franchise Data
System notes
Glyphs & Platform

Lat/Long: +15.03,-64.87'

Galaxy Donuts 1: Euclid Core
(Crashed Squid)

Topshe IX is lush with occasional scalding cloudbursts. Located conveniently at the core of Euclid galaxy, this special location includes one free white and zebra-striped crashed S class Squid in the front yard!

Risakosc (Euclid Core)

Utforsa-Neri XIV

Gek Minerals//Advanced Tranquil

115008FFEFFB

Platform: PS4/Normal

 

Lat/Long: -57.09,+119.04'

Galaxy Donuts 7: Budullangr Portal
(Diplo Sanctuary)

Diplomania Prime is a lush, mellow world with pleasant weather and 7.9m diplos at every turn. Located conveniently in Budullangr galaxy, in a wealthy, if dangerous, Vy'keen system known as [HUB-A9] Diplomania, it's over 688,652 LY from the core, but worth the trip.

Diplomania Prime

[HUB-A9] Diplomania 


Vy'keen Mercantile//Wealthy Dangerous

31A904947FCC

Platform: PS4/Normal

 
Eissentam Galaxy: Find a Galaxy Donuts Near You:
[
]
Photo & Latitude, Longitude
Franchise Data
System notes
Glyphs & Platform

Lat/Long: +22.33, -142.91

Galaxy Donuts 1: Homer's Folly

Our First location in the Eissentam Galaxy! Two stormless lush planets, tons of S class modules and two farms are present in the system. Galactic Hub Eissentam

[HUB22-FA ] Crimson Bay System

Gek, Shipping // Flourishing, Untroubled

10FAF8556C31

Platform: PS4