Grant Duncan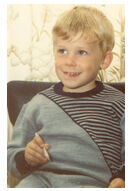 Grant Duncan is an artist.
Grant Duncan is a founder and the Art Director of Hello Games. He serves as an artist on No Man's Sky.
Hello there, I'm Grant and I am the sole artist here at Hello Games. When I am not wallowing in creative loneliness, I like to enjoy a good cup of tea.
Like most artists, I've been doodling forever. When I was about ten I held aspirations of becoming a Disney animator. I wrote to Rolf's Cartoon Club asking how to go about it. They were very helpful. Turns out you need £2,000 for a rostrum camera – I am still saving up.
I cut my professional teeth working for Climax as a Character Artist, then had the immense pleasure of working with the talented guys at Sumo Digital. I got to work on Sega games! (Virtua Tennis 3 and Sega Superstars Tennis).
Starting up Hello Games with my chums has been NonStopJoy.[1]