The Greater Mushroom Beetle (GMB) is a category of fauna.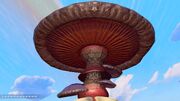 Summary
[
]
This creature is a Greater Mushroom Beetle (GMB), a subset of the Conokinis / Bos fauna genus. The subset is highly sought after by explorers due to its rarity: GMBs are generally regarded as being even more rare than megafauna diplos.
The GMB subset was first defined by 7101334, and (unlike the various Genera) is a player-created category, not an actual part of the game code. The first known discovery of a GMB was on November 7, 2016 by Cernunok.
A Greater Mushroom Beetle is defined by the presence of a full-fruiting-body fungal symbiote. In other words, the beetle must have the whole mushroom shape on its back, the stem and cap. A beetle with only a mushroom cap but no stem is known as a Lesser Mushroom Beetle (LMB). LMBs, while still rare, are not generally considered as noteworthy.
It's important to note that the "Greater" in "Greater Mushroom Beetle" has nothing to do with the actual size of the animal. It refers strictly to the type of fungal symbiote.
Documented GMBs
[
]
Living GMBs
[
]
Sorted by date discovered, newest to oldest.
Extinct GMBs
[
]
This category is reserved for GMB's that can no longer be found in-game.
Legacy GMBs
[
]
This category is reserved for GMB's that were not fully documented before they became extinct.
Image/Name
Size
Location
Release &
Discoverer

Species name unknown
Unknown
Planet: Unknown
System:

Ukangz-Exmo XVII


Galaxy: Euclid
Coordinates: 047E:0079:0DF3:01B8
Glyphs: 

11B8FA5F4C7F

Atlas Rises
dwenius

Species name unknown
Unknown
Planet: Unknown
System:

Uludansh


Galaxy: Unknown
Coordinates: 07CB:007C:0272:004A
Glyphs: 

104AFDA73FCC

Initial Release
Cernunok