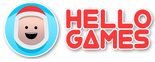 Hello Games is a British video game developer and publisher based in Guildford, England. The brand is known for the critically acclaimed Joe Danger series.
History
Hello Games was formed in July 2009 by former employees from other video game companies, such as Criterion Games, Electronic Arts, and Kuju Entertainment. At the 2010 Develop Awards, they won two awards: Best New Studio and Best Micro Studio.[1][2] In August 2010, they were listed by The Guardian in its Tech Media Invest list - a list of the 100 most innovative and creative companies of the previous 12 months.[3] At the 2011 Gamescom press event, they announced their second game, Joe Danger 2: The Movie.[4] Hello Games announced a new sci-fi adventure game titled No Man's Sky at the 2013 VGX award show.[5]
On Christmas Eve in 2013 the studio's offices were flooded after a nearby river broke its bank. They tweeted that "Everything in the office has pretty much been lost."[6]
Employees
Sean Murray, Managing Director
Grant Duncan, Art Director
Ryan Doyle
David Ream, Creative Director
Games developed
Joe Danger (2010)
Joe Danger 2: The Movie (2012)
Joe Danger Touch (2013)
Joe Danger Infinity (2014)
No Man's Sky (2015)[7]
References
External links