Jelmandan is a galaxy.
Summary
[
]
Jelmandan is the 124th galaxy in the No Man's Sky universe.
The Fade and Galaxy Centre are fundamental parts of every galaxy. In Jelmandan, the centre appears to be Peach-Orange.
This galaxy can be reached by:
Warp travel - Players start here with a crashed ship after reaching the centre of the Luleukous galaxy.
Region categories
[
]
Regions can be categorised by the prefix or suffix added to the procedurally generated name (∗ marks its location). Names without prefix or suffix can also appear.
∗ Adjunct
∗ Void
∗ Expanse
∗ Terminus
∗ Boundary
∗ Fringe
∗ Cluster
∗ Mass
∗ Band
∗ Cloud
∗ Nebula
∗ Quadrant
∗ Sector
∗ Anomaly
∗ Conflux
∗ Instability
Sea of ∗
The Arm of ∗
∗ Spur
∗ Shallows
Known regions
[
]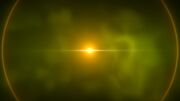 Specialty stars
[
]
Black Holes
[
]
No results
Gateway Systems
[
]
| System | Color | Economy | Faction | Planets | Moons | Platform | Release | Coordinates | Distance |
| --- | --- | --- | --- | --- | --- | --- | --- | --- | --- |
| Ancamcho XII | Yellow | Mass Production | Korvax | 1 | | PC | Synthesis | 07FF:0080:0807:00FA | 3,104 |
Atlas Interface
[
]
No results
Civilized space
[
]
Gallery
[
]