Murrine
Type
Precious/Exotic
Rarity
Very Rare
Blueprint Value
303.0
Symbol
Mu
Updated
Atlas Rises
Murrine is a resource.
Summary
[
]
Murrine (Mu) is a Very Rare resource, and a member of the Precious/Exotic elements class.
Game description
[
]
Valuable commodity known for its charming qualities.
Source
[
]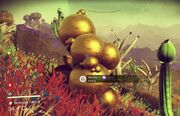 Found in plants, and on certain moons and planets in pillars of stacked golden balls. Can also be found by feeding animals (Very Rare).
Also found as an overly-abundant resource on certain planets.
Best way to mine is to use the Mining Beam on your Multi-tool or Exocraft. Use of the Plasma Launcher will destroy the entire structure without collecting the element.
Use
[
]
Murrine is an obsolete resource and no longer has a purpose in the game.
Additional information
[
]
Murrine can be sold in the Marketplace.
Speculation
[
]
This element may have been named after the Italian term (Murrine) for colored patterns or images made in a glass. Alternatively, this could be a reference to the creator of No Man's Sky, Sean Murray.
Release history
[
]
Gallery
[
]