The subject of this article is from the initial release.
The information from this article is up-to-date as of 25 November, 2016.
Music for an Infinite Universe is the name of an album created by the band 65daysofstatic and released in 2016.
Summary
This album was composed specifically for use in No Man's Sky, and the various tracks are sampled and procedurally combined during gameplay.
Tracks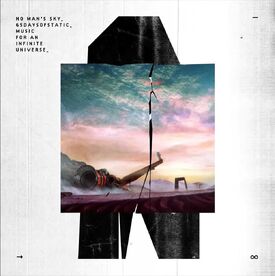 The 10 tracks are as follows. Of these 10 tracks, Supermoon is the best known, as it was used during several of the pre-release trailers.
Monolith
Supermoon
Asimov
Heliosphere
Blueprint For a Slow Machine
Pillars of Frost
Escape Velocity
Red Parallax
Hypersleep
End of the World Sun
Background
Sean Murray has said numerous times that the sounds of 65daysofstatic helped inspire the game to begin with. When he and the band met for the first time to discuss a soundtrack, both sides came to the meeting ready to convince the other that 65daysofstatic should be the band selected.
Band member Paul Wolinski said in an interview with Andrew Webster of The Verge, "We had a meeting with [Hello Games' Sean Murray] and it was the best meeting, because I went to meet him in London ready to pitch 65 to this project, because we'd been looking for a soundtrack project for a while and this one seemed perfect for us. He came to the meeting, I think wanting to pitch the exact same thing; he really wanted 65 to do the soundtrack. It was a really easy meeting. We just agreed to do it in the first five minutes and then talked about sci-fi for a bit."[1]
Video
References