Nazeam
Nazeam is the only moon in the Hevrov System. It orbits the planet Larthin.
Nazeam is a moon in orbit around the planet Larthin in the star system Hevrov.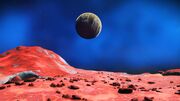 Memorial for the Battle of Larthin, placed on Nazeam in a location where the area in space the battle took place is easily visible.