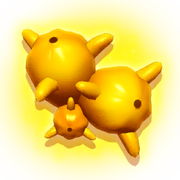 Neutral/Exotic elements are a cross between two of the five divisions of the periodic table in No Man's Sky
Summary
[
]
Neutral/Exotic elements show as a member of the Neutral family when displaying the information panel, but as an Exotic when harvesting.
Elements in this crossover group have an icon with a green or blue background when shown in the player's inventory.
Mining
[
]
These elements can be found in plants, storage depots, and rock deposits.
Members
[
]
Known members of the family are as follows:
| Icon | Element | Abbrev | Rarity | Description | Base value  units |
| --- | --- | --- | --- | --- | --- |
| | Marrow Bulb | Mb | Rare | A chemical present in the luminous leaves of the glowing plants found in caves. | 41.3 |
| | Armadium | Ar | Rare | A chemical found only in storage depots | 27.5 |
| | Detritum | De | Rare | A chemical found on many planets. Must be located with an Exocraft scanner and harvested with an Exocraft Mining Laser | 27.5 |
| | Gamma Root | Gr | Rare | A chemical found in the roots of trees that live in radioactive biomes. Requires Haz-Mat Gauntlet for proper handling. | 171.9 |
Additional information
[
]
Gallery
[
]