Nokuni NR5 is a starship in No Man's Sky.
Summary
[
]
The Nokuni NR5 is a Fighter-type starship in the universe of No Man's Sky.
Location
[
]
A C-class version of this starship was discovered by PC explorer Lari in the HUB1-C7 MGMT system, located in the The Arm of Vezitinen.
Additional information
[
]
Exterior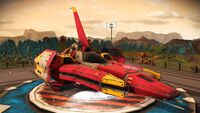 Gallery
[
]