Olverha is a planet in No Man's Sky.
Summary
[
]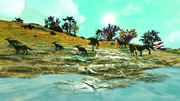 Olverha is a planet in the HUB4-130 Paradise Beaks system. This tropical planet has many notable features, including: a species of megafauna (~6m) Mogara / Grunts, a species of rare violet flower-trees rarely seen elsewhere in-game, beautiful beaches and underwater caves, yellow bubble / lollipop grass, a Cycromys / bird species, and more.
It's also the location of the Galactic Hub's fourth colony, the coastal colony of Dorinish. See Notable Locations & Waypoints for more info.
Alias names
[
]
| | | | |
| --- | --- | --- | --- |
| XBox | | Current: | Red Grass No Rain Space Hawaii |
Resources
[
]
"Form" refers to, for example: crystal form, resource deposit form, Pedestal Form (Vortex Cube), "Stem Plant" Form (Gravitino Ball), "Floating Crystal" Form (Rare Metal Element/others), etc
"Rarity" refers to how often the resource appears on the planet, and is just an estimate (there's no in-game value to measure it by).
Standard resources like Carbon, Condensed Carbon, Sodium, etc. may be included or omitted at the editor's discretion.
Life
[
]
Fauna
[
]
Name
Behavior & Diet
Height
Weight
Best Friend
Cheerful
Mordite roots
5.9m
289.4kg
dangerdorian
Genus: Mogara
Notes: -EXTINCT- Large Grunt species, mostly brown with white underbelly & face. Teddy-bear-like and bird-like gender appearances.
T. Soilpitamum
Slow grazer
Grass
1.5m
74.7kg
hemlock09
Genus: Tetraceris
Notes: -EXTINCT- Green, long-nosed antelope species with feather-like manes/frills around their necks. Red backs dotted with blue-red pustules, perhaps a part of the animal but seemingly a parasite, symbiote, or otherwise foreign organism. Generally found in large herds, and generally very loud, earning them the local nickname "decibel deer".
M. Copmidia
Long-distance migration
Mostly rocks
3.2m
145.8kg
Forrest904
Genus: Ungulatis
Notes: -EXTINCT- Green/brown or red (depending on gender), fairly large horned bovine. Thick forelegs, thin back legs, and what appears to be some sort of foreign organism on its back. Generally found in herds, in small groups, or alone. This species appears to be equally active regardless of time of day.
R. Falconsonium
Highly observant
Vegetation
0.6m
78.3kg
hemlock09
Genus: Procavya
Notes: -EXTINCT- Green/brown rodent with vivid red bumps on its back. Sharp teeth and bright yellow eyes. This species is barely taller than the grass on this planet.
E. Mustloctoe
Lone predator
Cannibalism
2.1m
139.3kg
AndyKrycek6
Genus: Prionace
Notes: -EXTINCT- Bright green shark with ornate white patterns down the majority of its body. Green teeth. Brown protrusions in the forehead area: could just be some scales, or could be a sensory organ. Generally found alone but other individuals may be found in the vicinity. Seems to prefer deeper water.
Excellent sense of smell
D. Radionoposa
Drifts on currents
Small crustaceans
0.9m
61.9kg
old_school_rpg
Genus: Ictaloris
Notes: -EXTINCT- Green jellyfish with black eyes extending from long stalks. May be found in pairs or larger groups.
U. Pentaniia
Effectively blind
Living sponges
0.7m
72.7kg
old_school_rpg
Genus: Ictaloris
Notes: -EXTINCT- Medium-sized blue/white fish with black stripes and a long mouth full of sharp teeth. This species is always found in schools.
A. Funnuncia
Never sleeps
Seaweed
0.5m
42.5kg
old_school_rpg
Genus: Ictaloris
Notes: -EXTINCT- Small, fairly round/spherical, brown fish with black stripes and some pale green features, such as the dorsal and tail fins. Always found in schools.
Extremely homozygous
M. Tribbritsia
Passive
Living sponges
1.5m
83.8kg
hemlock09
Genus: Conokinis (?)
Notes: -EXTINCT- Eight-legged brownish crabs with two large claws. May feature white stripes on the head/dorsal area depending on gender. Generally found alone, but other individuals are often in the vicinity. Seems to prefer shallow water.
S. Chromoradeum
Easily scared
Gravitino balls
1.4m
79.6kg
hemlock09
Genus: Cycromys
Notes: -EXTINCT- Individuals belonging to this species of large, "dragon-like" birds (Cycromys) can usually be found traveling in pairs. Common behavior is to appear, swoop down towards the ground or circle for a while, then fly into the distance. This species skin varies from dark to very pale green in color. Each wing is segmented into six sections and does not appear to feature feathers but rather stretched skin or other membrane. Each wing features two talons, and the species also displays a long tail which widens into a flat club-like shape near the end.
I. Polycicae
Collects shiny objects
Rotting fruit
0.9m
50.8kg
Krentebol01
Genus: Agnelis
Notes: -EXTINCT- These four-winged fauna have a face which resembles a cross between a bat and a pug. Their front wings are mostly white, while the posterior wings are mostly blue. They also display two long tails. As the wings don't appear to have any feathers, this species may be more comparable to a bat than a bird in Earth biology.
Zoology Scan Completion
[
]
PS4: 11/13
PC:
XBox:
Flora
[
]
Name
Age
Root Structure
Nutrient Source
Notes
& Resources
Discovered By
T. Marshamaeum (Greater)
Timeless
Branching
Meditation
Liquidizes Soil
Huge violet-colored flowers which share their name & scanner information with a tiny plant - or perhaps that tiny plant grows into these huge flowers. Large flowers like this are already rare, and their violet coloration makes this species some of the most rare flora the universe has to offer.
Carbon
jawertown
T. Marshamaeum (Lesser)
Timeless
Branching
Meditation
Liquidizes Soil
Small purple plant with multiple (usually 5) cattail-like projections reaching upward from a base of serrated leaves which cling to the ground.
Carbon
jawertown
H. Sougouae (Greater)
Millennia
Limited
Gas Clouds
Paralyzing Spores
One of the only flora on this planet without dominantly violet/purple leaves. A stout tree with thick orange-brown leaves and a thick trunk covered in pinkish-brown spheres, perhaps fungus or perhaps part of the tree. Shares its name with a small woody plant.
Carbon
hemlock09
H. Sougouae (Lesser)
Millennia
Limited
Gas Clouds
Paralyzing Spores
This small woody plant grows slightly over head-height with a Traveler and features exotic, drooping purple leaves on its many separate branches, which all grow from a central base near the ground.
Carbon
hemlock09
Y. Sekynuria (Greater)
Millennia
Not Present
Moonlight
Four Dimensional
Club-shaped, medium-sized tree with clusters of long, somewhat thin leaves. Shares its name with a small herbaceous plant, or that plant may grow into these larger trees.
Carbon & Coprite
amesqualine
Y. Sekynuria (Lesser)
Millennia
Not Present
Moonlight
Four Dimensional
Small herbaceous plant. Yellowish with purple dots, mostly on outer leaf edges.
Carbon & Coprite
amesqualine
R. Wartcoygnosa
Immature
Knotted
Photosynthesis
Omni-Seasonal
Waist-height violet-colored shrub.
Carbon & Mordite
amesqualine
E. Sunomyrera
Fully Grown
Regular
Parasitic Leaching
Whispering Leaves
Waist-height red-colored shrub.
Carbon
amesqualine
N. Dragnodexus
Fresh
Complex
Lost Insects
High Metal Content
Small pink/purple plant, generally appear to grow to 6 large leaves at maximum.
Carbon & Mordite
amesqualine
Z. Spiteyanii
Old
Transferrable
Geological Energy
Sticky Coating
Grass-like plant with clusters of three red-purple pods, most likely flowers.
Carbon & Coprite
hemlock09
O. Marishhumosa
Timeless
Gravitational
Carbon Absorption
Hypnotic Perfume
"Explosive" harmful plant
Oxygen
amesqualine
Y. Spinnutrium
Centuries
Invasive
Carnivorous
Mono-seasonal
"Bear trap"-style harmful plant
Oxygen
zaz_ariins
Atmosphere & Climate
[
]
Maximum Temperature: 104.3 °F / 40.2 °C
Minimum Temperature:
Storm Temperature:
Radioactivity (Rad): 1.9
Toxicity (Tox): 19.3
Notable Locations & Waypoints
[
]
| Image | Name | Description | Latitude/Longitude |
| --- | --- | --- | --- |
| | Dorinish Colony | See Below | -5.00, 79.00 |
Dorinish Colony
[
]
Dorinish is the Galactic Hub's fourth official colony - an organized settlement of multiple player bases. Inspired by Southern California, Dorinish residents live along the coastlines and are encouraged to build small-to-medium-sized homes which occupy both the land and sea.
Base sites are spaced approximately 400u apart (each base claim has a 200u radius). Base sites can be claimed on the Residency Spreadsheet. Be sure to do this before placing a base computer
Settling on Dorinish
Navigate to the system
Find the planet
Explore the available planetary coordinates (listed on spreadsheet above, or map in thumbnail image)
Find one you like and make sure it's not already claimed on the spreadsheet
If it's already claimed, find another spot; if not, claim it for yourself
That's it! 30 spots per platform are available on a first-come first-serve basis and if no base is built after some number of weeks, the base claim may be forfeited, following notification by Galactic Hub Staff.
Rules and Guidelines
Do not claim a base site which has already been claimed (steal a claim). The spreadsheet has a version history: Hub staff will see, and it's not a good way to be seen.
Try to keep your base somewhat small to minimize lag.
Small exterior features which aren't a part of your base, like fountains, parks, small public gardens, statues, etc are strongly encouraged. This will make the colony feel more connected and settled in the absence of roads.
If you expect to play No Man's Sky in VR, build your base with that in mind!
Gallery
[
]