Oxide elements are one of the five divisions of the periodic table in No Man's Sky
Summary
[
]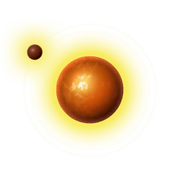 Oxide elements are commonly used for crafting and recharging defensive technologies, as well as other electronic devices.
All elements in the Oxide family have an icon with a yellow background when shown in the players inventory, or on the No Man's Sky periodic table.
When a scan is taken of an area, locations with Oxide elements are tagged with a yellow diamond-shaped icon with a white ingot (brick) in the centre (view sample).
Mining
[
]
These elements can be found in rock formations and asteroids. Zinc can also be found in certain types of plants on the surface of planets.
Members
[
]
Known members of the Oxide elements family are Iron (Fe), Zinc (Zn), and Titanium (Ti).
| Icon | Element | Rarity | Description | Base value  units |
| --- | --- | --- | --- | --- |
| | Iron | Common | Mined element used to build and recharge defensive technologies. Found in rock formations and areas of geological interest. | 13.8 |
| | Zinc | Uncommon | Powerful element used to recharge defensive technologies, and to create and maintain many components and devices. Found in yellow flowering vegetation and planetary flora. | 41.3 |
| | Titanium | Rare | Extremely powerful oxide that can be used to recharge defensive technologies. A vital ingredient in the creation of many advanced devices, products and components. Found in yellow clusters during planetary exploration. | 61.9 |
Additional information
[
]
Formerly known as commodity elements, the icons included a container shape in the upper left-hand corner.
Pre-release - Sulfur was a member of this group of elements
Gallery
[
]