Plutonium
The most popularly used power element throughout the Outer Rim for transit through space.
Type
Isotope
Rarity
Rare
Blueprint Value
41.0
Symbol
Pu
Updated
Desolation
Plutonium is a resource.
Summary
[
]
Plutonium (Pu) is one of the Isotope elements. It can be used for your starship, your multi-tool, or to power suit protection layers.
Game description
[
]
Extremely powerful element that can be used to charge weaponry, mining equipment and exosuit power packs.
A vital ingredient in the creation of many advanced technologies, components, and products.
Found in red crystalline structures, and often within planetary cave networks.
Additional information
[
]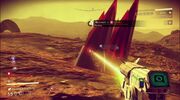 Often found on Frozen and Radioactive planet types.
Plutonium can be sold in the Galactic trade terminal.
If a plutonium crystal is analysed using the Analysis Visor, it can have Thamium9 as a secondary element
Traveller NPCs may ask for Plutonium, even after it has been removed from the game. The option is to give a "plutonium substitute", generally Condensed Carbon.
Use
[
]
Plutonium is an obsolete resource and no longer has a purpose in the game.
Release history
[
]
Gallery
[
]
Videos
[
]