Refining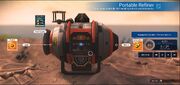 Refining is a process of combining ingredients.
Refining is a process of combining various ingredients (mostly resources) into other ingredients with the use of a refiner.
Refined materials are more condensed or more powerful and efficient than raw materials. The advantage of refined materials is that you can carry more of them. Also you need fewer refined materials to recharge something. The disadvantage is that refining takes time and possibly fuel.
You can take out refined materials before all are processed. You can also stop the refining process or adjust the output number to meet your requirements. Though output number can go up to 1023, the output slot can only hold one standard Exosuit stack at a time (250x for resources, 5x for products) on survival or premadeath modes and 9999 in normal mode --- the refining process will automatically pause if the refiner detects that its output slot is full. An exception is with inputs that produce 150 outputs (e.g. TetraCobalt). The refiner will process 2x input items and stop with 300x items in the output slot.
There are four types of refiners with different properties.
Single-name ingredients can often be refined into a double-name ingredient.
Refined materials can also be refined.
A ratio of 2:1 means the output will be half as much as the input (2 in, 1 out).
Multiple refiners can be used at the same time.
The arrow buttons increase or decrease the target total of the operation.
The displayed amount of time for the refining action is often incorrect.
If a refiner is processing a recipe and only has one item left in the inputs, the input will be consumed with no reward, so as to prevent the player having to deal with stacks of one item such as carbon.