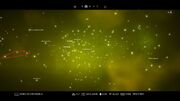 Sector SMV-NWB is one of four sectors in the Sugaikinovi Fringe.
The regions Sliodmarka Void and Nakwambomme are the closest to this sector, hence the name. When facing the Galaxy Centre, the SMV is located directly behind while Nakwambomme is to the left.
It is 2nd in terms of size, but 1st in terms of number of stars.
Star systems
[
]
The following star systems can be found within the sector:
Gojumigeuphra

Iruitelni Prime

 • 

Ohhotanq-Mang Major

 • 

Fetrangoria

 • 

Bellinagsfo

 • 

Gamerendurmas-Rarl

 • 

Nomaeba-4 Kuitan

Irnuhicoraank

Nitsiyahuk Inhu

 • 

Qujianpingdeq

 • 

Sonairen-Seh Nezaka

(Moon)  • 

Rezfellarant

(Moon)  • 

Yiptiongg Urusan

 • 

Zimashk Avkanii

Neungjiaonan

Utforied Minor

 • 

Liudach Ayvoris

 • 

Kepplau Geqvis

 • 

Shofernsew Avant

 • 

Onautormo Nunduhs

 • 

Ejanve PE905

Paindonoqu I

Yukhtagase TV272

 • 

Tubileys Lifente

 • 

Agovomors ZE440

 • 

Layginic Aljen

 • 

Lestoeneerh

 • 

Poontale Oobashc

Pikiurakad

Yadonquo Unnan

 • 

Apseldumed-Tene Fotok

 • 

Miqueziu Tuwers

 • 

Ufjorgun-Boish Aness

 • 

Fujimariy Onoort

 • 

Tarutosar Irusta

Quzhijincheo

Ravogas Ugpadu

 • 

Amamaguchi Tahymn

 • 

Lifheill-Ourna Oncep

 • 

Maborij Oukong

 • 

Liwalarka Bahrim

 • 

Foborgagnels

Serkambaxoisar

Usvardas-Aoka Iawanu

 • 

Tokkumey RW710

 • 

Hazhuolog Niyue

 • 

Ahpucclione

 • 

Kuvoshchyolk

(Moon)

Xijiannanegzh
Xionquardr-Bri

Garvicering-Suflok

 • 

Uphiloncegi-4

Zibosolvoo-Sedres

Sthaiyac Oringp

(moon)  • 

Eidersin-Sorr Aubs

 • 

Hoyandopot Okomi

 • 

Eburmerlin WO730

 • 

Auragis-3 Nodber

 • 

Zegiansuusfar