Solar Parts Catalogue is an index page.
Summary
[
]
Solar Parts Catalogue contains a list of body shapes and parts for the Solar Ship version of the Starship.
In total, there are 6 body shapes, 3 sail types, 6 wing types, and 5 auxiliary wing parts. Each one of these attributes can be interchanged without affecting each other.
Body Shapes
[
]
This provides the main hull of the solar ship, the entire carapace is uniform. This means each body shape is the same, nose, boosters, and decals. There are six types.
Raven
Spider
Marlin
Grouper
Falcon
Jackal
Sail Types
[
]
There are three different sail types. The type of sail you get is not dependent on the wing type, body shape, or any other feature.
Sail colour
[
]
There are six different sail colours; they are interchangeable as is each part of the solar ship.
Green
Gold
Purple
Cyan
Red
White
Orange
Blue
Wing Type
[
]
There are six different types of wings, with three sets of "twin" wings (Similar shape and design, while having size and orientation differences).
Razor
Shielded
Double Blade
Starburst
Talon
Grapple
Wing Tips
[
]
At the front of each wing is the final ship part; there are five different styles.
Horza
Verta
Tristar
Torpedo
Drill
Ship colour
[
]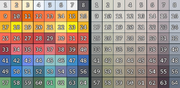 Solar ships come in a selected range of colours. These can be either one solid colour, a mix of the base colour with white and lighter shades of several colours, or metallic colours. The colouring will vary vastly based on what type of undercoating the ship has, either Metallic or Painted. (Ex. Yellow could be sand/beige coloured or red could be such a light variety that it comes out pink or near purple if it holds blue undertones.)
Two-Toned non-metallic ships will generally come with a primary colour and either White, Grey, or Black as a secondary colour.
Primary Colours (varying shades)
Blue
Green
Grey
Orange
Red
White
Yellow
Metallic Secondary Colours AKA undercoat colours /w varying shades
Gallery
[
]
Related Articles
[
]