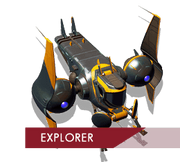 Summary
[
]
The following is a list of various Explorer-Archetype starships discovered by different players during the Frontiers through current era.
(For a list of all ship types, refer to the Starship Catalogue)
Remember that even though all starships are available in all class grades, the maximum inventory size depends on the design of the ship itself. It is important to know which design is best suited to you when looking for a new starship.
Description
[
]
Ships of this type feature a hyperdrive range class bonus. These ships are the most unusual looking out of all the other starships, with some appearing bug-like and slender, while others feature massive engine block additions.
Inventory
[
]
The regular inventory ranges for Explorers are 15-19 for small, 20-29 for medium, and 30-38 for large.
Tech slots max out at 12.
Catalogues
[
]
The tables below are alphabetically sorted by galaxy, region, and ship name. If a ship lacks coordinates, enter them if possible. Ships that cannot be found and bought only serve a historic purpose.
Large
[
]
Medium
[
]
Small
[
]