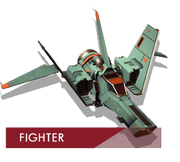 Summary
[
]
The following is a list of various Fighter-Archetype starships discovered by different players during the Frontiers through current eras.
(For a list of all ship types, refer to the Starship Catalogue)
Remember that even though all starships are available in all class grades, the maximum inventory size depends on the design of the ship itself. It is important to know which design is best suited to you when looking for a new starship.
Description
[
]
Ships in this class feature a potential damage and a shield class bonus. These ships are the mascot ships of No Man's Sky, and are also the primary starships of pirates across the galaxy.
Inventory
[
]
The inventory ranges for Fighters are 15-19 for small, 20-29 for medium, and 30-38 for large.
Catalogues
[
]
The tables below are alphabetically sorted by galaxy, region, and ship name. If a ship lacks coordinates, enter them if possible. Ships that cannot be found and bought only serve a historic purpose.
Large
[
]
Medium
[
]
Small
[
]
Inventory Unknown
[
]
Unique starships
[
]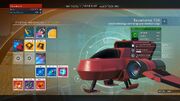 No Man's Sky contains four Unique ships. These do not spawn in systems, as they are either pre-order bonus ships, an expedition reward ship or the Radiant Pillar BC1 starter ship. All have a Small inventory level.
A list of ships similar to the Radiant Pillar BC1 can be found on the Rasamama Collectors Club page.
Legacy
[
]
The original starter ship was the Rasamama S36 and was replaced by the Yakomaku S79 during the revamp of the starship mechanic, which was itself replaced by the Radiant Pillar BC1 in a later update. It has gathered a cult following and is the main model of the Rasamama Collectors Club.
References
[
]