Starship Catalogue - Living Ship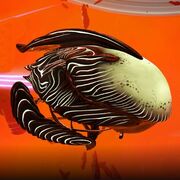 The following is a list of various Living Ship starships discovered by different players during the Living Ship through current eras.
(For a list of all ship types, refer to the Starship Catalogue)
These biological ships have their own set of unique organic technologies, all procedurally generated for a customised, evolved loadout.
The inventory for Living Ships are 22 Storage Sacs (General) and 21 Organ Chambers (Tech).
The table below is alphabetically sorted by galaxy, region, and ship name. If a ship lacks coordinates, enter them if possible. Ships that cannot be found and bought only serve a historic purpose.