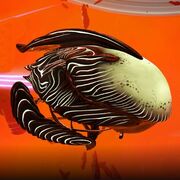 Summary
[
]
The following is a list of various Living Ship starships discovered by different players during the Living Ship through current eras.
(For a list of all ship types, refer to the Starship Catalogue)
Description
[
]
These biological ships have their own set of unique organic technologies, all procedurally generated for a customised, evolved loadout.
Inventory
[
]
The inventory for Living Ships are 22 Storage Sacs (General) and 21 Organ Chambers (Tech). As of now, the only way to increase the capacity of your Living Ship is to increase the freighter inventory while keeping "it" as your primary ship (via an exploit).
Catalogues
[
]
The table below is alphabetically sorted by galaxy, region, and ship name. If a ship lacks coordinates, enter them if possible. Ships that cannot be found and bought only serve a historic purpose.