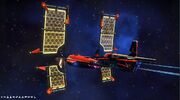 Summary
[
]
The following is a list of various Solar-type starships discovered by different players during the Outlaws through current eras.
(For a list of all ship types, refer to the Starship Catalogue)
Description
[
]
These ships have their own set of unique technologies, all procedurally generated for a more efficient Pulse Engine.
Inventory
[
]
The inventory for Solar Ships are 15-19 General and 2-6 Tech.
That can be maxed out at 48:21:21 for S-class.
Catalogues
[
]
The table below is alphabetically sorted by galaxy, region, and ship name. If a ship lacks coordinates, enter them if possible. Ships that cannot be found and bought only serve a historic purpose.
Refer to the Solar Parts Catalogue to see specific ship parts.