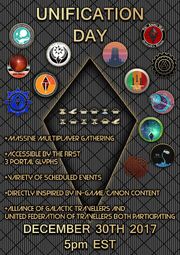 Unification Day is a fan-fiction event.
Summary
[
]
Unification Day is a player-created gathering of civilizations scheduled for December.
Reddit user Galactic_Glory was inspired by an excerpt from a crashed ship's distress beacon, who suggested applying the concept to the United Federation of Travelers as a large-scale gathering. The Federation then worked to involve as many civilizations as possible, regardless of whether or not they are Federation-allied.
Staff
[
]
A team of No Man's Sky players have been put together to help organize and manage Unification Day.
Council
[
]
A "Unification Day Council" has been formed to help make decisions (such as location, events, date, etc.)
Origin
[
]
Although essentially a fan-fiction / player-created event in its final incarnation, the concept of Unification Day does come directly from No Man's Sky itself.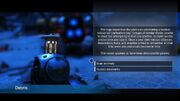 The logs reveal that the pilot was celebrating a festival known as 'Unification Day'. Groups of similar minds, unable to meet but attempting to find one another, to claim worlds across time and space. Once a year their various alliances, federations, hubs, and empires united to remember all that they were, and could become in time...
- Excerpt from a Distress Beacon at a Crashed Ship
Time
[
]
Unification Day is currently scheduled for December 30th, beginning at 5 PM EST.
Location
[
]
Unification Day will be accessible to any users with the first 3 Portal Glyphs. The Unification Day system, which may or may not change after 2017's event, is located in the Delta Quadrant.
210020202201
Unification Day System
[
]
Unification Day 2017
System Name
Star Color
System Brief
Unification Day PS4
Aylovke PC
Yellow G6pf
1 Moon, Dead
4 Planets, Lush, Lush (EX Sentinels), Hot, Dead
Distance from
The GHub: 676,265 ly.
The Core: 290,774 ly
Notes: Located in the Ilandull Adjunct Region. Korvax System, Trivial Conflict Level.
Videos
[
]
Livestream coverage of the upcoming Unification Day - bit.ly/agtUnificationDay
Nearby Attractions
[
]
Various civilizations have provided nearby attractions and resources for travelers to utilize.
Galactic Hub
[
]
Unification Park, a base with a large monument to unity, designed as a gift to all Unification Day celebrators.
New Hub Order / NHO
[
]
NHO Unification Day Support - Several systems setup for Unification Day 2017. All can be used as alternative portals, places to stay, or resource harvesting. The NHO Budullangr Embassy is also open for Unification Visitors.
Ricco System, the location of the NHO's Euclid Embassy.
Events
[
]
UTC: Coordinated Universal Time / ET: Eastern Time
5:00 PM ET / 22:00 UTC: Unification Day officially begins. Use this time to take some screenshots and group photos!
5:15 PM ET / 22:15 UTC: The Unification Communication - Players are encouraged to leave Communications Stations about any aspect of civilized space or Unification Day, optionally utilizing the NMS Lore Vault to exceed the in-game character limit. Examples might be your experiences in your own civilization, your thoughts as a "lone traveler," or just a "Hello, I made it to Unification Day 2017!" Communications Stations should be left in the area around the Portal.
5:30 / 22:30: Barrel Racing - Players must vanquish the greatest number of Sentinels in 15 minutes, but there's a catch - your "final score" will be the number of barrels clearly visible in one area. This means it's not just a contest of who can kill the most Sentinels, but who can pick the best terrain and utilize No Man's Sky's physics to get all the barrels in one spot! Screenshots can be submitted to any Unification Day Staff (See "Unification Day Staff" list, higher on this page).
5:45 / 22:45: Drag Racing - Although impromptu races will probably occur throughout the event, they are officially scheduled for this time. One or more players will serve as a "checkpoint," and the other players must reach them from a designated starting point. Race start-times will be based on the UTC: Coordinated Universal Time Clock, and called out over in-game voice chat.
6:00 / 23:00: Photo Mode Scavenger Hunt - More information coming soon.
6:30 / 23:30: Terrain Manipulator Sculpting Contest - Players will need to create a sculpture matching certain themes using the Terrain Manipulator. The themes will be announced on this Wiki page at 6:20 / 23:20. With 3 themes, you will have 15 minutes per sculpture. Sculptures can only be seen via screenshots (not visible to other players in-game), which will then be ranked by a community poll posted on various No Man's Sky websites. Screenshots can be submitted to any Unification Day Staff (See "Unification Day Staff" list, higher on this page).
7:00 / 00:00: Starship Race - Players with access to their starships will meet at a local Trade Post and race to the Space Station.
7:30 / 00:30: Nearby Attractions Tour - Players are encouraged to tour any of the locations listed on the "Nearby Attractions" section of this page.
8:00 / 01:00: Unification Park Farewell - Players are encouraged to meet at

Unification Park

for the final event of the day, a social meet-up providing a final opportunity for exocraft drag races, group photos, etc.
Notes
[
]
December 14, 2017 - Greg Buchanan, the writer for No Man's Sky who conceptualized Unification Day and authored the excerpt, expressed his interest/appreciation in the actual implementation of Unification Day in this tweet.