| | |
| --- | --- |
| | This page fills the role of Embassy for the United Federation of Travelers. The information found here represents a user-created alliance of Civilized space zones that is a creative addition to the game. |
This page fills the role of Embassy for the United Federation of Travelers.
The information found here represents a user-created alliance of Civilized space zones that is a creative addition to the game.
| | |
| --- | --- |
| | This article is about the current version of the UFT. For the archived versions, see Archive:UFT. |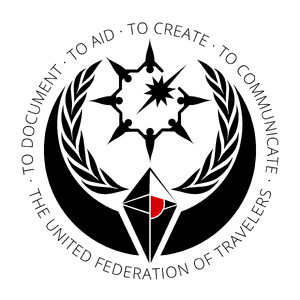 The United Federation of Travelers is an alliance of civilized space zones.
Summary
The United Federation of Travelers, more often just called the Federation, is an alliance of civilized space zones. It was formed on April 15, 2017, and went public on April 25, 2017. The Federation's purpose is to unite civilizations behind universally beneficial goals without hindering any sovereign civilization's customs or practices, and to assist in the founding of new civilizations. While fan-fiction/roleplay elements can be involved, the Federation places no official restrictions on, and makes no specific endorsements of, any fan-fiction. Federation Civilizations are left to manage their own fan-fiction/roleplaying/lore.
General Moderators: 7101334 / zazariins / Acolatio
Civilized Space Journalist: Mattastic119
Main Website: Federation Subreddit
The United Federation of Travelers Constitution
Universally Beneficial Goals
These are the Federation's primary goals. All Federation civilizations are expected to follow them and encourage their citizens to follow them.
To Document
To Aid
To Create
To Communicate
Federation Civilizations
Euclid
Calypso
Budullangr
Eissentam
Ontiniangp
Rerasmutul
Meximicka
Map of the Federation
Image Map of the Federation as of September 04, 2021.
Clicking on a civilization in the picture causes the browser to load the appropriate article / Mouseover = Coordinates.
For historical maps, vist Civilized Space Maps.

Departments
Departments must be approved by a general vote, and can be removed by a vote or by the manager of the Department at their discretion. Managers of external Departments do not need to be Ambassadors.
Galactic Hub Star League
The Galactic Hub Star League is the competitive simulation sports organization sponsored by the Galactic Hub.
Star League Director: HubStarLeague
Vexillology Department
The Federation Vexillology Department is created for the purpose of recording which color and pattern combinations of in-game flags and banners correspond with certain civilizations.
Department manager: Acolatio
Event Department
The Unification Day is a player-created gathering of civilizations scheduled for December.
The Hall of Fame election takes place once a year and honors users who have excelled in civilized space or NMS. Hall of Fame 2018 / Hall of Fame 2019 / Hall of Fame 2020
Department manager: WAAM86
UFT Shared Space Management
The UFT Shared Space Management takes care of the documentation of the Pillar of the Federation and the UFT Shared System.
The UFT Shared System a single colony in Euclid where all Ambassadors are encouraged to build bases to showcase their civilization and its style. The Pillar of the Federation is a straight column of 24 star systems right next to the UFT Shared System.
Department team: celabgalactic / EdVintage / g5457s / TC-Pr1dBj0rn / _glitterpede_
Membership Requirements
Any civilizations seeking Federation membership status must meet the following criteria:
Recognition on the Civilized space or Companies page.
Assignment of flag and banner in the Federation Vexillology Department.
Reddit account. The civilisation's leader/ambassador's account should be at least three months old, with sufficient activity to verify legitimacy. If reddit is not their primary platform, then an alternative social media account can be used.
Your civilization must agree to encourage the use of the NMS Gamepedia Wiki over other documentation tools, and ideally contribute to the Wiki in other ways as well.
Your civilization must provide coordinates for a capital system. Capitals may be changed at any time, and are primarily used for mapping and navigation purposes. The civilisation must have bases on it's capital, comparable to it's size (as listed on it's census), that can be verified.
If your civilization meets those criteria, you can then follow the steps below to apply for Federation membership:
Contact any Federation Ambassador to apply for membership. It is recommended that you use the "Accession negotiations" feature of the subreddit, as we will be able to most quickly update your information.
After your civilization is accepted:
Your civilization will be added to the Subreddit, Wiki page and Federation map.
Representatives receive Ambassador status.
Additional Information
Related Pages