Viridium
Type
Exotic
Rarity
Rare
Blueprint Value
303.0
Symbol
Vi
Updated
Atlas Rises
Viridium is a resource.
Summary
[
]
Viridium (Vi) is a resource, and a member of the Exotic elements class.
An element found only in Green Star systems, and commonly located coating hollow circular subterranean areas. These may be opened to the surface, as seen in the attached image, or may have to be unearthed.
Game description
[
]
An element found only in Green Star Systems, and commonly located in large terrain piles.
Source
[
]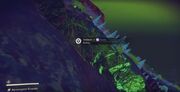 To find a buried deposit, use the scanner (C button on PC, L3 on PS4) to locate buried 3-D gridded objects. Use grenades to blast away a tunnel to the gridded object until you see the exposed grid lines bounding the green mass of buried Viridium. Then use the Multi-tool to mine the deposit.
If present, Viridium will show in the list of available elements when scanning the planet.
Use
[
]
Viridium is an obsolete resource and no longer has a purpose in the game.
Additional information
[
]
Release history
[
]
Gallery
[
]