Vy'Kea Furniture Company is a retail chain, with franchises available.
Summary
[
]
Vy'Kea Furniture Company is a retail/wholesale chain specializing in home furnishings and decor with locations throughout the galaxy. Vy'Kea is a member of the United Corporate Alliance, and closely allied with CELAB Galactic Industries.
Note: The facilities at most Vy'Kea locations are inoperable at this time, due to power requirements imposed by the BEYOND update. Refer to the relevant Player Base pages for further information.
Vy'Kea Furniture Company History
[
]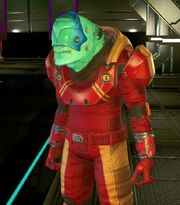 The Vy'Kea Furniture Company was founded by Owner Vargort (formerly Recruit Vargort).
Recruit Vargort (like most Vy'keen) started his career as a member of the Vy'keen High Command, and was stationed at a remote outpost in the Inakes Nebula under the command of Brigadier Gonoxen. His early missions were a mixed success: on one memorable occasion, he was tasked with destroying a sentinel supply depot, misread the orders and instead of destroying it, decorated it. The mission was a success in a way, since after the paint dried the sentinels couldn't find the depot's access ports. His commanding officer was nevertheless displeased. After a few similar incidents, his superiors concluded that he had more fashion sense than tactical sense and he was relieved of his duties.
Vargort found himself out of work on a remote planet that had one advantage: good buy/sell ratios and plentiful resources. He acquired an inexpensive shuttle craft and began his trading career. He found this profitable, but aesthetically unsatisfying. This changed when a customer who purchased building supplies from him asked for his opinion regarding an upholstery pattern. His artistic and cultured response to this and other similar questions let to this customer backing the establishment of the first VyKeen Home Furnishings on Dumou V in the Didactus IV system.
Vy'Kea Furniture Company Information
[
]
Vy'Kea Furniture strives to supply quality home furnishings at reasonable prices throughout the galaxy. Every retail and warehouse outlet has an exhaustive inventory of finished goods, representing every type of home or office furnishings available in the current iteration. The showroom at our Corporate Headquarters also offers rare and unusual Exotic Trophies for direct sale.
We realize that shipping and handling of finished goods presents a problem for many people. In support of our budget-conscious customers as well as those who have a strong Do-It-Yourself ethic, every Vy'Kea Furniture outlet supplies a wide variety of construction materials, including Star Silk, at its trade terminals. Customers who wish to copy our furniture designs are welcome to do so, and can even buy the necessary construction materials direct from us at competitive prices.
Vy'Kea is also pleased to offer custom construction services in Euclid galaxy. Base building assistance, materials provisioning, and carbon farm construction are available on a limited basis.
Vy'Kea Furniture Company Franchise Information
[
]
Interested in operating your own Vy'Kea retail outlet? Very good. Vy'Kea needs you, and it's easy to get started! Here's how:
Visit a few of the existing branches to get a feel for their design and construction.
Identify a planet and star system suitable for your new location. New franchises must be located in a star system that has a Trading economy, and on a planet that has no extreme weather or extreme sentinels.
Contact us through our Talk page, describing your plans. Be sure to include the planet and star system name and galactic coordinates for the proposed location. We will respond with our approval or suggestions promptly.
Notify us upon completion of construction. We will visit the site if it is in Euclid Galaxy on PC. If it is in another galaxy we may ask you to submit screenshots for review. We will notify you and add your new location to this page when our review of the new construction is completed successfully.
Vy'Kea Furniture Outlets
[
]
Photo & Latitude, Longitude
Outlet Data
System notes
Glyphs & Platform

latitude/longitude +33.01, -148.36

Our Home Office. This facility includes a retail showroom and the office tower, which houses the executive offices, conference rooms, and manufacturing center. The retail showroom offers very unique items collected from Exotic biome planets throughout the galaxy.

Region: Exhuan

Planet: Daysnodle Beta in system Mariner-Urtraali

Korvax/Trading-High wealth/Unstable

4001F9553C33

Galaxy: Euclid. Platform: PC

latitude/longitude +14.68, -63.71

This is the main company warehouse. An associated retail outlet sometimes offers warehouse items at a substantial discount.

Region: Inakes Nebula

Planet: Maeleo in system KA Beytz

Korvax/Shipping-Medium wealth/Stable

203202934E3E

Galaxy: Euclid. Platform: PC

latitude/longitude +38.23, -66.20

The first Vy'Kea location where it all started. This location features a large retail showroom, with decor personally selected (and in some cases handmade) by Owner Vargort. Note: This is the only location that does not offer Star Silk at its trade terminal.

Region: Atkastr Band

Planet: Dumou V in system Didactus IV

Korvax/Fuel Generation-High wealth/Trivial

119102933E3E

Galaxy: Euclid. Platform: PC

latitude/longitude -21.04, -22.99

This Vy'Kea retail outlet includes a manufacturing facility in the basement with a carbon and Frost Crystal farm.

Region: Aslesc Nebula

Planet: Hunatsvi M29 in system Mariner-Futtsu

Korvax/Trading-Medium wealth/Unstable

101CF9552C33

Galaxy: Euclid. Platform: PC

latitude/longitude -75.41, +37.63

This farming facility provides raw materials for Vy'Kea manufacturing operations. There is a retail showroom and trade terminal in addition to several bio-domes, standing planters, and large refiners.

Region: Uindhiri Terminus

Planet: Mazu 64/W9 in system Mariner-Audkata

Korvax/Trading-High wealth/Fractious

2020FC550C34

Galaxy: Euclid. Platform: PC

latitude/longitude -75.41, +37.63

Come join our new grand re-opening celebration! We are pleased to announce that Vy'Kea number three has finally reopened following a complete remodel and expansion. Prices Slashed! Bargains Galore!

Region: Atkastr Band

Planet: Sporalios in system KA Atkastr

Korvax/Shipping-Satisfactory/Trivial

515702933E3E

Galaxy: Euclid. Platform: PC

latitude/longitude -6.77, +56.65

Now open, the biggest Vy'Kea yet, and our first outlet in the remote Kompera Fringe! Modern retail showroom, large carbon farm and refinery. Complimentary coffee and treats for the kiddies!

Region: Kompera Fringe

Planet: Tebay 52/E3 in system Ukanql

Korvax/Trading-Advanced/Tranquil

41E40294AE52

Galaxy: Euclid. Platform: PC

latitude/longitude +26.03, +19.05

Vy'Kea has an outlet in the famous Pilgrim Star System! Tour the system, and walk in the steps of the famous explorer St3amBot! When you get tired, try relaxing on one of our custom-made sofas. Your feet will thank you!

Region: Ocopad Conflux

Planet: Lopei in system The Pilgrim Star

Korvax/Commercial-Unsuccessful/Abandoned

209A039BAE4B

Galaxy: Euclid. Platform: PC