Zinc
Type
Oxide
Rarity
Uncommon
Blueprint Value
41.3
Symbol
Zn
Updated
Atlas Rises
Zinc is a resource.
Summary
[
]
Zinc (Zn) is an uncommon metal and a member of the Oxide elements class.
Game description
[
]
Powerful element used to recharge defensive technologies, and to create and maintain many components and devices.
Found in yellow flowering vegetation and planetary flora.
Sources
[
]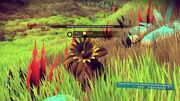 Use
[
]
Crafting
[
]
Zinc is used as an ingredient for crafting the following products:
Refining
[
]
Zinc is not used as an ingredient for refining using a Refiner.
Cooking
[
]
Zinc is not used as an ingredient for cooking using a Nutrient Processor.
Additional information
[
]
When looking for Zinc on a planetary surface it is useful to scan the surroundings (PC: C key) and look for yellow shield-like icons. Zinc is especially important as an ingredient in crafting Antimatter, which in turn is a component of Warp Cells.
Release history
[
]
Gallery
[
]
Videos
[
]